Cairngorms Nature: Mob grazing for diversity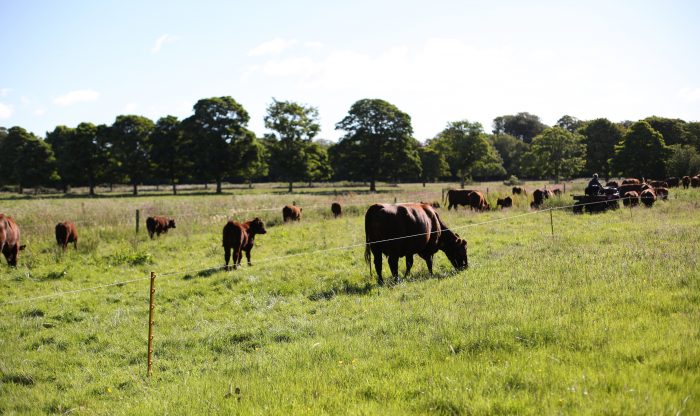 By Rebecca Watts, CNPA Conservation Officer
Mob? Diversity? How do these things go together you may wonder? These mobs are not intent on causing trouble or violence, simply in need of a good pasture feed! And the diversity we're referring to is of the botanical kind.
If you've ever experimented with how you mow your lawn during the summer months you will understand how grass can be transformed into an audio and visual feast through some simple changes to the management regime! So too on larger pastures – grasslands are reactive.
A flagship project kicked off this month bringing farmers and plant species monitoring volunteers together for an initial training session. The project seeks to help farmers increase pasture plant species diversity on their farms through an adaptive grazing management approach.
Mob grazing can deliver benefits for plants, soil health, pollinating insects and not least increasing agricultural productivity. This depends on what the farmer aims to achieve.
It is done by short duration, high density grazing with a longer than usual grass recovery period.
This involves concentrating the cattle and moving them on to fresh areas regularly. It requires fencing and making water available at multiple locations to accommodate the moving herd. The increased rest period of the land results in more grass and greater variety of plants – providing improved productivity and animal health benefits.
The project, which is supported by the Cairngorms Green Recovery Fund 2021 brought farmers and others together at Croft of Clachaig near Nethy Bridge for botanical training with botanist Ben Averis and Plantlife Scotland. There was also  a grazing discussion with the Nature Friendly Farming Network and Pasture Fed Livestock Association. The project is a collaboration with support from the Cairngorms National Park Authority.
The next stage of the project will be a series of workshops, mentoring and facilitated support for the participating farmers to plan for mob grazing on their farms in the future.
It is hoped this technique will prove to be one of the tools available to land managers to help reverse the decline in species rich grassland being seen in the park and nationally. The trials will be monitored by citizens scientists through the Rare Plants and Wild Connections project.
For more information on how to become a citizen scientist in the Plantlife Scotland's Rare Plants and Wild Connection Project or to learn more about mob grazing please contact Rebecca in the conservation team who can put you in touch: [email protected].