Literary Landscapes
Scotland is covered in place names from several different languages: Gaelic, Scots, Doric and Norse. Discover how they came about with the help of our new interactive map

What's In A Place Name?
The Cairngorms National Park has a rich natural and cultural heritage, and unlocking the language of the land gives a new way to see the landscapes. Place names can tell us the history of particular areas: the way that people used to live and work; the ecology of a place; culture of songs, stories, poetry.
Place Names Map
Take the time to search the map and click on the icons to see place name entries. Read the stories, study the images, listen to pronunciations and learn about place-name heritage. The information on the map is provided by users of the Literary Landscapes resource where each place name entry is logged by school groups and individuals. The map has been developed in partnership with Loch Lomond & the Trossachs National Park.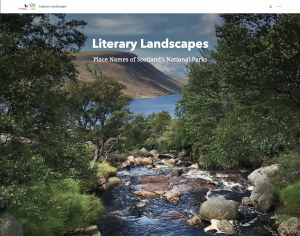 How To Make Your Own Contribution To The Map
As this is a collaborative project, we want to make it as easy as possible to make an entry and build a long-lasting resource. We have updated our entry page to give you more information about the project and to guide you through the process of submitting your own entries.
Find out more about the special qualities of the Cairngorms National Park
More Information
If you would like a hard copy of the Literary Landscapes booklet please email [email protected]