Carr-Bridge Community Paths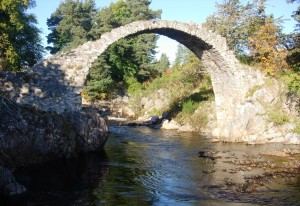 As you will discover, Carr-Bridge is a village of many short and pleasant walks. In particular the woods contain a variety of mature and young trees and are home to many of the area's specialities such as Scottish crossbill, crested tit and red squirrel.
There are 7 trails including 30 minute walks along the River Dulnain or through the Glencharrnoch woods, take the longer Calderwood viewpoint trail and you will be delighted by incredible sights across the Cairngorms or take in the famous Sluggan Bridge built by General Wade's redcoats in the 1700s.
The Carr-bridge Path Leaflet gives you details on all 7 walks including maps and further information about the area.
Walking trails
Outdoor Activities
Bike trails
Scenic spots
Castles & Culture
Nature Reserves
Family Attractions
Visitor Information
Ranger Bases