Equality
The Cairngorms National Park Authority is committed to promoting equality as an employer and through the work it does.
As a public authority, the CNPA must meet the requirements of the Equality Act 2010, which harmonises and replaces previous equalities legislation. In terms of the Public Sector Equality Duty, every 4 years the CNPA is required to develop a set of equality outcomes, mainstream equality, gather employee information, review procurement procedures, and publish these materials. It also requires the Authority to undertake equality impact assessments on projects.
The Equality Mainstreaming and Outcome Report 2021 – 2024 has pulled this information together into one document, which contains the following: –
Mainstreaming Equality within CNPA – which shows how equality is embedded into the day to day work and functions of the organisation.
Employee data, including the Gender Pay Gap, occupational segregation information and a detailed Equal Pay Audit.
A new set of equality outcomes for 2021 – 2024, together with the associated Action Plan.
Progress on the delivery of the previous set of Equality Outcomes 2017 – 2020
The Equal Pay Statement.
Once this has been done, the CNPA is required to report at 2 year intervals. This report should contain an update on mainstreaming equalities; a progress report on the Equality Outcomes; and updated Employee Information. Organisations with 20 or more staff are also required to publish pay gap information.
Equality Impact Assessment
The CNPA's projects and activities are impact assessed to ensure that they do not discriminate or have any negative effects on equality groups, but also to identify ways to promote equality. Inclusive Cairngorms, an advisory forum to CNPA, plays a key role in this process, ensuring our projects and activities are as accessible as possible.
Recent assessments are available below.
#GenerationEqual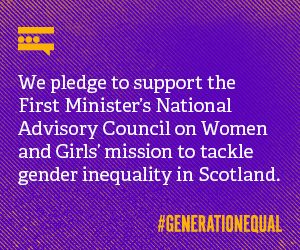 Please click here for more information
Do you have any other questions?
For more information about equalities at CNPA please contact the main office, Grantown on Spey office