Creating a Gaelic Experience with the Five Senses
How can your customers experience Gaelic with their five senses and engage more deeply with the Gaelic language?
FEEL GAELIC
Creating a sense of place with feelings anyone can experience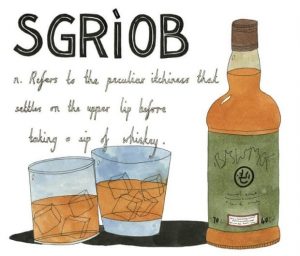 Allow your customers to feel the rough fabric of Scotland's tweed. Tweed is called clò Gàidhealach in Gaelic – cloth of the Gaels! It is a distinct product of the Highlands and Islands. Tell them about the material's history. Your customers can see how tweed was made at live demonstrations at the Highland Folk Museum as well as get a chance to listen to some waulking songs which women sang as they waulked, or hardened, the tweed.
Sgrìob – can you feel a skreeb as you sample a dram? Slàinte mhath!
SEE GAELIC
Things for your customers to see and become immersed in the area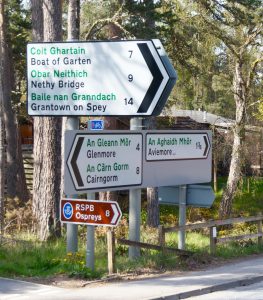 Your customers' first impression of your business is important. Including some Gaelic on your website is free and makes your business stand out from its competition. This could be the English translation of the house's name (like Feith Mhòr) or a fully Gaelic page (like The Smuggler's Hostel's site). Many houses in Scotland have Gaelic names – if you're running a B&B you might have a Gaelic sign outside your business already!
Fàilte. Ceud Mìle Fàilte, in fact! Why not give your customers a huge Highland welcome, or a hundred thousand welcomes! Fàilte signs are increasingly popular and available for purchase on Etsy and Ebay.
One of the rooms in your business could have a Gaelic name. How about naming it after a prominent geographical feature visible from the room's windows? a simple, yet effective way of immersing your customers in the beautiful nature and rich cultural heritage around them.
Head down to Kingussie and Newtonmore to watch a shinty match! Shinty has been played in Scotland since at least the 6th century AD, and probably even earlier than that! It's the traditional game of the Gaels, and even today you'll see the Gaelic name for shinty, camanachd, proudly displayed in the club crests of Kingussie Camanachd Club and Newtonmore Camanachd Club.
TASTE GAELIC
Help your customers explore the Gaelic roots of some of their favourite drinks and foods
Cranachan – this popular Scottish dessert of whipped cream, berries, honey, whiskey and oatmeal originates among the Highlands' Gaelic-speakers. A crannachan is a small butter churn – and when you see this dessert in all its glory you can see the likeness yourself.
Caboc – the Scots word for a wheel of cheese, kebbock, comes from the Gaelic word càbag. Have your guests try some Highland cheese, now available in many grocery shops.
Bannock – bannach is a Gaelic word and all bannocks originate in the Highlands.
Salmon – Rìgh nan Iasg – the Gaels called the salmon 'the king of all fish' as they admired its strength in swimming upstream and valued it as food above all other fish. Your customers would love to try fresh, local, Strathspey salmon.
Whisky – uisge-beatha (OOSHguh BAY-huh) – whisky was first distilled by Gaelic-speakers, and was given the name uisge-beatha or 'water of life'. Until this day many distilleries retain their Gaelic names.
Farewell drink – Deoch an Dorais (JOCH in DOOR-ish) – the Gaels said farewell by sending their guests and friends away with a deoch an dorus or "drink for the road". Why not offer your customers a farewell drink?
SMELL GAELIC
Immerse your customers in Scotland's natural fragrances beloved by the Gaels

Lavender – lus na tùise – the Gaels are so impressed by this herb's fragrance, they call it 'the incense herb'.
Bog myrtle – roid – this shrub grows around most bogs and wetlands, and its leaves elicit a very pleasant aroma when rubbed. Gaels sometimes used it as bedding, a natural deodorant, and a midge repellent.
Soapwort – lus an t-siabainn – this sweet-scented flower produces a natural soap that was used throughout Scotland and most of Europe. An excellent alternative to the harsh and polluting soaps of today.
Heather – fraoch – possibly the most emblematic shrub of Scotland. Beautiful scent and show of colour when it is in bloom, usually around August. Because it is so prolific on Scotland's moors, the Gaels have used it for making: rope (ròpa-fraoich), brooms (sguab-fhraoich), makeshift beds (leid-fhraoich), and even thatched houses (taigh-fraoich)! Scotland's famous red grouse are called cearc-fhraoich in Gaelic, meaning heather-hens.
Wild mountain thyme – lus mhic rìgh Bhreatainn – is the object of a famous Scots folk song. This fragrant shrub has a mysterious Gaelic name, meaning 'herb of the son of the King of Britons'. The king himself remains to be identified, but we know that this name refers to the son of a ruler of Alclud, the Brythonic kingdom of Strathclyde.
HEAR GAELIC
Inspiring ideas for what your customers could hear to immerse themselves in a Scottish sense of place
With thanks to Bòrd na Gàidhlig for their funding support
for the production of the Gaelic as an Asset online toolkit.
Le taing do Bhòrd na Gàidhlig airson toirt seachad taic-maoineachaidh
a thaobh cruthachadh an inneal air-loidhne 'Gàidhlig mar Mhaoin'.
Toolkit Sections