'Ant Boy' Shortlisted for Nature of Scotland Award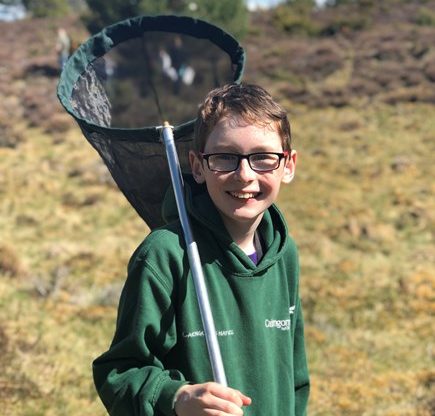 Xander Johnston has been a runner up in the Cairngorms Nature Young Presenter competition, he is currently a Cairngorms Nature Young Ambassador and now he has been shortlisted in the RSPB's prestigious Nature of Scotland Awards.
He has been nominated in the Young Nature Champion category for his outstanding dedication to conservation in the Cairngorms National Park. This is a special new award created this year to mark the Year of Young People in Scotland.
Xander first came to the attention of the Cairngorms National Park Authority (CNPA)when he attended a 'Nest Quest' to look for Wood Ants as part of the Cairngorms Nature BIG Weekend.  This sparked a love of ants and he entered a video about them into the Young Presenter competition, where he was a runner up in 2017. He is also a regular volunteer with the Cairngorms Rare Invertebrates Project.
On hearing he had made the shortlist Xander said, "I'm delighted to have made it on to the shortlist for the RSPB Young Nature Champion award. I love being a Cairngorms Nature young ambassador helping others to learn about nature and how to look after it, especially my favourite, the ants! I have had a great time taking part in and arranging my own nature surveys, especially the Cairngorms rare invertebrate surveys. I love sharing all of this with my class mates at school and on my YouTube channel. It's just so much fun."
Andy Ford, Head of Conservation at the CNPA said: "Xander is a force of nature, his enthusiasm, knowledge and passion for the Cairngorms are infectious.  He thoroughly deserves to be on the shortlist and we wish him luck for the final judging."
Winners will be announced at a ceremony in Edinburgh on 22 November at the Sheraton Grand Hotel in Edinburgh.
For more information on the Nature of Scotland Awards go to the RSPB website