Consultations
Consultations give you the opportunity to let us know how you think we, as the Park Authority, can best manage the Park.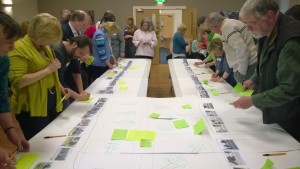 Here you can obtain access to all current consultations and find out how you can get involved and have your say.
The CNPA follows the National Standards for Community Engagement, in order to promote good practice and let people know what to expect from our community engagement activities.
Contribute your opinion to our current consultations
The Park Authority and Scottish Government Consultations
Consultation is an essential and important aspect of Scottish Government and we are frequently invited to respond to formal consultations to inform and enhance their work. Our responses are prepared by drawing on the collective views expressed by our partners and stakeholders and the final response is approved by the CNPA board. The views expressed are analysed and used as part of the Scottish Government's decision making process.
The Scottish Government website lists all closed, current and forthcoming consultations
Past Consultations
Issued by Cairngorms National Park Authority
Responded to by Cairngorms National Park Authority