Walking
For hundreds of years paths have played an important part in the Park's rich heritage. Whether you are a walker, cyclist or horse rider there is so much choice from high mountains to wide straths, woods and water come and explore the Park at your own pace.

Coronavirus/COVID-19 Update: The Scottish Government has now implemented Phase 3 of the transition out of lockdown for Scotland. Travel restrictions for recreation, leisure and exercise have been lifted, we ask if you travel to the National Park please be kind and considerate in the areas you visit and respect our local communities, the virus has not gone away, please protect yourselves and residents in the National Park.

Please ensure you maintain physical distancing of at least two metres from other people when outdoors, in shops and businesses. Adhere to Government guidelines and the Scottish Outdoor Access Code. Always plan ahead for any visit to ensure that the places and businesses you intend to visit are open and ready to receive visitors.
Click here for information on car parks and click here for information on public toilets across the National Park.
Visit our Frequently Asked Questions page to help you plan ahead for your visit.
Community Paths & Trails
The villages and towns in the Park have networks of community paths and trails, giving you a taste of the unique landscapes, nature, and heritage in each of these communities.
Find the right trail or trails for you, whether you're looking for a 15-minute low-level walk, an hour long low-level walk or a longer hike through the woodlands and mountains, you will be able to find a trail that suits you regardless of where you are in the Park.
Hill Tracks
Want to experience a sense of wildness? For walking routes over hill passes and through uninhabited country, you will want to try out one of the Cairngorms HIll Tracks. In most cases, these are rough and unmade tracks and you will need a detailed map and a compass for navigation.
The Hill Tracks in the Cairngorms National Park leaflet highlights the routes featured in the book Scottish Hill Tracks book Ref ISBN 978-1-907233-16-6. The book can be found in good book stores and will provide you with grid references, distances and full route descriptions.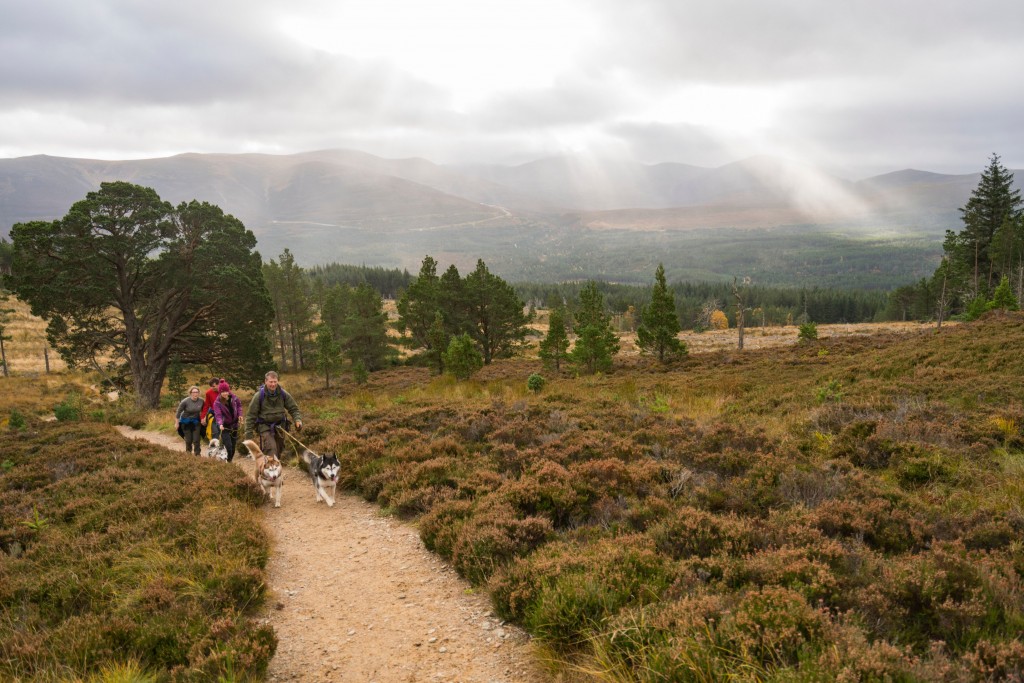 Long Distance Routes
Spend longer exploring the Park and taking in incredible views on some of the longer (and longest) walking routes in Scotland.
The Speyside Way is one of four official Long Distance Routes in Scotland, the route links the Moray coast with the edge of the Grampian Mountains, following the valley of the River Spey, spanning a distance of approximately 65 miles. You can also find out more here.
The Deeside Way runs from near the centre of Aberdeen to Ballater, following the line of the Old Royal Deeside Railway through woodlands and farmlands, for a total distance of 41 miles.
The Cateran Trail, one of Scotland's Great Trails, is a 64-mile long route through Perthshire and the Angus Glens, this is a circular route divided into five stages, following old drove roads and ancient tracks across farmland, forests, and moors.
The Dava Way links Forres in Moray with Grantown-on-Spey, a distance of 24 miles following the old Highland Railway line and winds its way up to the Dava summit at 320m before descending into Strathspey.
Bag a Munro
Munros are mountains in Scotland that are at least 3,000 feet high (approximately 914 metres) and are named after Sir Hugh Thomas Munro, (1856-1919) who was the first to publish a list of all the mountains of this type in the Journal of the Scottish Mountaineering Club in 1891.
The Cairngorms National Park has the most extensive range of mountains in the whole of the UK, with arctic-like wilderness plateaus, encircled by beautiful valleys and rivers, climbing a Munro means you will pass through ancient Caledonian pinewoods, take in historic sites and reach summits higher than anywhere else in the British Isles.
Bagging a Munro is no easy feat, it is recommended that you prepare well in advance, considering your ability, the weather, equipment and your hiking companions. For the best overview, advice, maps and information on each of the Munros in the Park be sure to visit Walk Highlands.
For some Munro Bagging inspiration have a read of Visit Cairngorms article 'Six of the best Munros to climb in the Cairngorms'.
Heritage Trails
There are many types of paths you can take while in the Park, including heritage trails that have unique stories about the history of the land and its people to tell. From Coffin Roads and Drove Roads to Smugglers' Paths and Medieval Roads, there are many histories to explore. For all the history, the route descriptions and maps visit Heritage Paths: Revitalising Scotland's Historic Paths for the Future.

Be prepared
While there are plenty of walks that require little or no preparation if you do decide to take on a long hike or a higher climb it helps to be familiar with the Outdoor Access Code and deer stalking and being safe in the mountains. Cautionary tales here will help you avoid mistakes.
Dog walking
Guided Walks
Explore the mountains, forests and moorlands with expert rangers and guides who live and work in the Park and can take you on the most incredible walking adventures, making sure you get the most out of your time here. Find out about guided walks here and visit Rangers Events for all the up and coming activities.
Recommended Links
Find out other things to do