Cairngorms National Park Authority is Switched-On to e-transport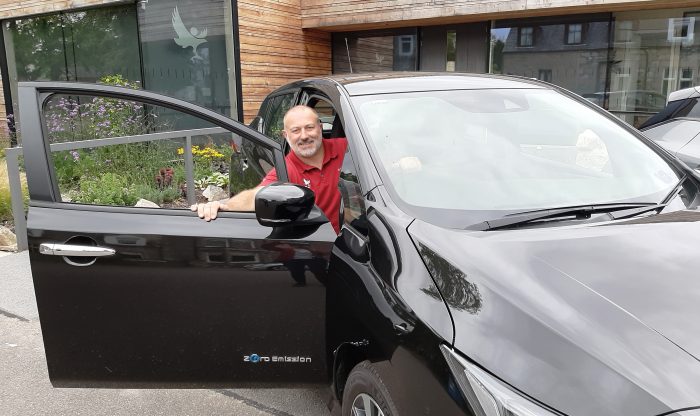 The Cairngorms National Park Authority (CNPA) have a green future ahead as they make the switch to electric cars and support community e-bikes.
The organisation have taken delivery of two Nissan Leaf 100Kw plug in electric vehicles this year, which complement the hybrid vehicles already in the fleet.
The new fully electric vehicles have been obtained with funding made available by Scottish Ministers through the Transport Scotland's Switched-on Fleet Grant Offer, which is funding 90% of the 3 year lease costs. The CNPA will be looking to increase the number of fully electric vehicles once the hybrid leases come up for renewal.
David Cameron, Director of Corporate Services at the CNPA said, "We take our corporate responsibilities very seriously, switching to electric vehicles is a key decision which will actively reduce our emissions. Scottish Government intends to end the sale of petrol & diesel cars by 2032 and this grant has given us the opportunity to start changing over to electric vehicles now, allowing us to make the changes in stages over the coming years.
Investment in new car fleet and behaviour changes by our staff group helped bring our emissions down by over 8% in our most recent figures, and this ongoing investment will help reduce the Park Authority's impact on the environment even further.
"Most staff were able to receive training on the vehicles before lockdown and the cars have been utilised by staff who have been volunteering; delivering shopping and medical collections to vulnerable members of the local communities."
As well as electric cars the CNPA are also involved in the Active Cairngorms E-bikes (ACE) project which is working in the Badenoch and Strathspey area.  The project aims to make cycling, for everyday journeys and leisure, more accessible by providing a fleet of e-bikes that can be borrowed by referred members of the community – free of charge.
Bridget Trussell, LEADER Manager at the CNPA explains, "The ACE project will target those living in the most disadvantaged areas of Badenoch and Strathspey or those living with health conditions.  Participants will be referred into the programme by local GPs or other health practitioners and we hope those using the bikes will experience an increase in health and mobility.  We also hope that it will enable people to feel less isolated and help them to get out into the community again."
The project is being fully funded through the Cairngorms LEADER 2014-2020 programme, and is being co-ordinated by Cairngorms Trust and UK Cycling Scotland with support from the CNPA.
Ends.