The Cairngorms Nature BIG Weekend Competition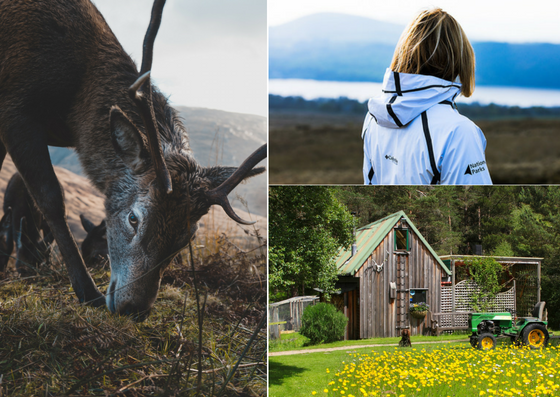 A Cairngorms Nature BIG Weekend is never complete without a BIG Competition!!
This year you and your family could be in with a chance of winning a BIG Weekend of your own here in the Cairngorms National Park.
Enter now for the prize draw to win:
An exclusive stay in the Hut Hostel at the Lazy Duck for up to four nights!
A guided wildlife walk in the moors and hills of the Cairngorms with Wild Alba Tours for four people!
And, get your family fully kitted out with your choice of Columbia outer layer, mid-layer, trouser and footwear.
Competition closes on Monday 14th May
Find out a little bit more about these incredible prizes:
An independent, mountain-hut style hostel sleeping up to 8 people privately, and one of the smallest in Scotland.  The little hut hostel nestles amongst ancient pine forest, with waterfowl and wildlife the nearest neighbours. It looks south across a neighbouring 100 acre grazing moor of heather, peat moss and Caledonian woodland to Cairngorm (1245m) and Bynack More (1090m) nine miles away.
A sheltered, lantern-lit, covered garden where you can cook, eat and enjoy an evening around the fire, whatever the weather. Red squirrels like to join the party from their spectacular feeding station, watched from the windows or the basket chairs. Prepare meals in the fully-equipped kitchen and play board games in the shared living space, creating tech-free family memories.
The Lazy Duck invites families to start the day by helping the team to feed the resident ducks, and end their adventure in our sauna or wood-fired hot tub.
One of Scotland's most treasured resources is its wildlife. There are plenty of opportunities to see spectacular examples of animals and birds on our doorstep. Wild Alba will help you to get up close and personal with the wildest of our residents.
Scotland is famed for spectacular scenery, wonderful wildlife, and fascinating history, and at Wild Alba they want to share these with you. Wild Alba are passionate about spending time in Scotland's outdoors, whether that means hiking through remote glens, up mountains, and along rocky coasts, watching red squirrels and crested tits in secluded Caledonian pine forests, or exploring hidden lochs, castles and churches.
Wildlife walks in the Moors & Hills
This walk requires a degree of fitness and will be on rough paths so good footwear is important.  It may also be cold and as it is Scotland it may rain so please also bring some warm waterproof clothing.  Experience the living landscape of the hills and moors. The Wild Alba ranger will take your group out into the hidden valleys and up onto the moorland and hills. Surrounded by an array of wonderful wildlife, this walk is ideal for those who like to unwind as they enjoy and explore the great outdoors at a slower pace. No jumping in and out of minibuses ticking off target species, just a leisurely walk with an expert guide who will point out wildlife along the way. Although Wild Alba follow a set route there is no fixed itinerary and so will stop and look at whatever catches your eye along the way.
Duration:             3 hours
Number:              Maximum of 4 people
Columbia are the official outfitter of the UK National Parks' rangers and staff.
Columbia, the flagship brand of Portland, Oregon-based Columbia Sportswear Company, has been creating innovative apparel, footwear, accessories and equipment for outdoor enthusiasts since 1938.  Columbia has become a leading global brand by channelling the company's passion for the outdoors, and an innovative spirit into technologies and performance products that keep people warm, dry, cool and protected year-round.  To learn more, please visit the company's website at www.columbiasportswear.co.uk
Columbia are providing you with a full outdoors kit for a family of 4, including an outer layer, mid-layer, trousers and footwear for each person. Be sure to check out their full range here.