Deputy First Minister encourages action for EUROPARC Youth Manifesto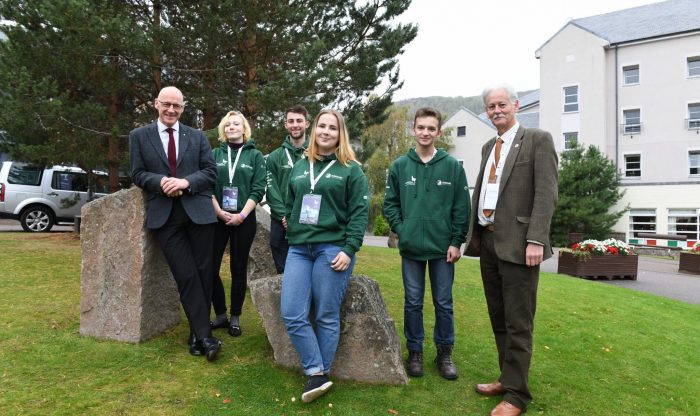 The EUROPARC Youth Manifesto was launched today (Friday 21 September) to over 400 delegates at EUROPARC 2018 in Aviemore. Deputy First Minister, John Swinney addressed the conference and supported the call for the protected areas in Europe to take action.
Young people are keen to be involved in the decision making processes when it comes to sustaining the rural landscape. All summer young people from across Europe have been working together to put together their vision on the most important aspects of living, learning and working in protected areas and rural communities and this Manifesto offers practical ways for change.
John Swinney, Deputy First Minister said: "It is fantastic to see the Cairngorms National Park Authority taking forward the EUROPARC Youth Manifesto by establishing a Youth Council for the National Park, with support from the Cairngorms LEADER programme.
"Scotland's young people have an important voice and vital role to play when it comes to sustaining our rural landscape. I'm delighted to see that the Youth Council will be run by and for young people which will help to deliver their vision for the future of the Cairngorms National Park."
This trans-national partnership project has been led by the Cairngorms National Park Authority with project partners: EUROPARC Federation, Cairngorms Trust, Rieskas LEADER Finland, Keskipiste LEADER, Ravakka LEADER, Scottish Natural Heritage and Young Scot.
Laura Peters is the Youth+ Representative on the EUROPARC Council. She explained: "Young people just want to be heard and entrusted to help protect and conserve their local environments. We want to be involved in helping to make thriving, sustainable communities with training and job opportunities so that we can remain in our local areas and not lose touch with our cultural heritage. This Manifesto must be the catalyst to making that happen in Scotland and across Europe."
Grant Moir Chief Executive of the CNPA agreed: "Young people are the future of the national parks and protected areas that we have in Europe; they are the decision-makers of tomorrow. This Manifesto is a both a challenge and a source of inspiration for decision makers in protected areas and rural communities to find ways to engage with their local youth and listen to their ideas."
Mike Cantlay, Chair of Scottish Natural Heritage: "This year's EUROPARC Conference theme of reconnecting young people to nature couldn't be more timely as we celebrate the Year of Young People in Scotland and as we launch the Youth Manifesto, we are all reminded of the importance of inspiring young people to help protect our environment and secure it for the future. SNH is proud to have supported the development of the EUROPARC Federation's Youth Manifesto for protected areas, and the parallel work that our ReRoute Youth Panel has undertaken for the Scottish Biodiversity Challenge and Route Map to 2020. We are confident both milestone initiatives will enable young people to take the lead in addressing challenges they face when living, learning, and working in rural communities and protected areas. We look forward to using the Manifesto to inspire our own actions in the future and developing solutions to better connect young people with their environment."
The Youth Manifesto can be viewed here.