Heritage Lottery Boost for Tomintoul & Glenlivet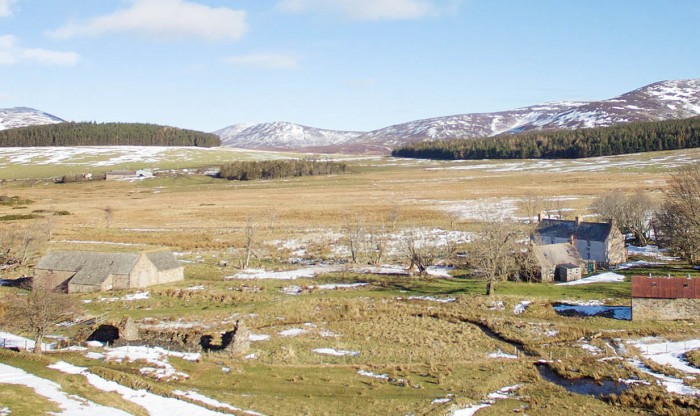 It is an area famous for whisky production but its champagne corks that are popping in Tomintoul and Glenlivet today (Thursday 6th October) as the Heritage Lottery Fund announces a grant award of £2.34million to support regeneration projects in this special area of the Cairngorms National Park.
The Tomintoul and Glenlivet Landscape Partnership (TGLP) has a wealth of exciting initiatives in the pipeline which can now go ahead supported by this major financial contribution from the Heritage Lottery Fund.
The funding bid was led by the Cairngorms National Park Authority (CNPA) with partners including the Tomintoul & Glenlivet Development Trust (TGDT), The Crown Estate, Moray Council, Highlands & Islands Enterprise (HIE), the Royal Society for the Protection of Birds, Spey Catchment Initiative, Historic Environment Scotland and the Cairngorms Learning Partnership.
Having secured Development funding of £171,600 back in May 2014 – along with £50,000 from the CNPA, £40,000 from the Crown Estate, £50,000 from HIE and significant voluntary input from the local community and other organisations – 18 months of work was carried out to develop detailed proposals for a wide range of projects that could come to fruition if the Stage Two bid was successful – which it has been!
Tomintoul and Glenlivet has a distinct heritage with many colourful stories from the past. The Landscape Partnership project will be using this rich heritage to promote rural regeneration and encourage more visitors to experience this distinctive and vibrant corner of the Cairngorms National Park.
The vision is for the communities of Tomintoul and Glenlivet to share and celebrate the hidden heritage of the area, building on the economic regeneration already underway and significantly enhancing the landscape, heritage, skills and development opportunities in the long term. Twenty projects are planned over a four-year period with the youngest to the oldest members of the communities getting the chance to become involved in learning new skills uncovering hidden history and celebrating their heritage through music and events. Among the projects that the Landscape Partnership aims to deliver include:
Tomintoul Museum will become a Discovery Centre and tourist hub.
Blairfindy Castle and Scalan (an 18th century seminary) will be conserved and made safe for visitors.
Woodlands will be restored along sections of the River Avon.
Wetland habitats for wading birds will be created.
There will be improvements to paths in the area.
A regional oral history project will collect stories that bring the landscape to life and abandoned settlements will be recorded to provide a better understanding of the local heritage.
Eleanor Mackintosh, CNPA Board Member and local resident said it was great news: "This is a massive boost, not just for Tomintoul and Glenlivet but for the wider National Park. Heritage Lottery funding will result in investment in new and improved facilities and infrastructure, new job opportunities and other community driven projects – there are exciting times ahead. I would like to thank and congratulate all those involved in helping to secure this funding."
Lucy Casot, Head of the Heritage Lottery Fund in Scotland, said: "The National Lottery is ensuring that Tomintoul and Glenlivet's spectacular landscape remains one of our greatest national assets, attracting visitors and making a vital contribution to Scotland's tourist economy. However it's not just visitors that benefit. With a bit of clever thinking, we can protect our natural heritage in a way that helps support people and communities. This innovative project will give everyone in the area the opportunity to experience the health, learning and social benefits of the great outdoors. I am sure it will also ignite a passion for our natural world and its long-term conservation."
Steve Smith is the chair of the TGLP, he commented: "This award is the result of much hard work by the organisations that form the Landscape Partnership and the many volunteers from within the community who have made this such a success. I look forward to continue working with all of these people to implement the projects which will not only enhance and preserve our landscape and heritage but also bring economic benefits to our community."
Mark Finnie, Chair of Tomintoul & Glenlivet Development Trust said: "We're delighted to receive confirmation that the Landscape Partnership has been awarded this funding. The success of this application demonstrates what can be achieved when our communities work together with the support of public agencies such as the Cairngorms National Park Authority, Highlands and Islands Enterprise and the Crown Estate. We're extremely excited to be working with local people and partners to deliver real benefits to this incredibly special part of the Cairngorms National Park."
Fiona Robb, Head of Strengthening Communities in HIE's Moray Area Team said that HIE was really pleased to be a member of the Landscape Partnership: "We are certain that this investment will bring many benefits to Tomintoul and Glenlivet and the wider Moray area. We also acknowledge the tremendous efforts made by the communities of Tomintoul and Glenlivet which will ensure that this project is an outstanding success."
Andy Wells, Head of Property for The Crown Estate, Scotland Portfolio commented: "This funding will allow us to continue our partnership work with local organisations to support a diverse rural economy within the Glenlivet Estate. The range of cultural, heritage and environmental projects that will benefit from this investment will add considerably to the area's tourism offer and help protect what makes it a special destination for visitors. The Landscape Partnership was created to deliver successful regeneration of the wider Tomintoul and Glenlivet area, drawing on the experience of all the organisations involved."