High praise for family friendly ways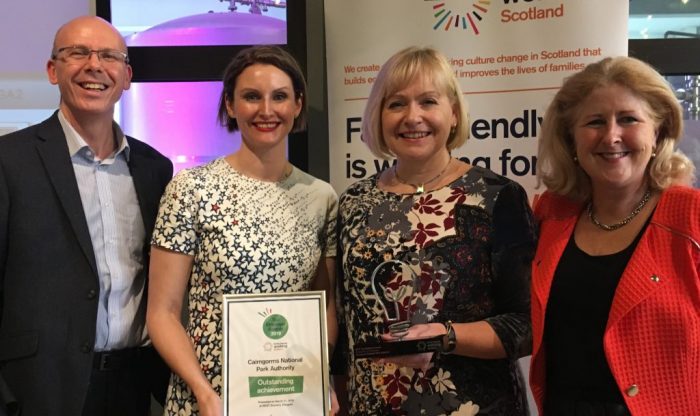 Family friendly employers were recognised last week at an awards ceremony in Glasgow – and although there was no outright win for the Cairngorms National Park Authority – the organisation was praised highly for going above and beyond to create a workplace which improved employees work life balance.
The CNPA had been entered in the Best Public Sector Employer category which in the end was won by Highlands & Islands Enterprise.  However, the Park Authority was one of only three organisations who won an Outstanding Achievement award, with judges applauding the CNPA's innovative approach for being such a small organisation.
Head of Organisational Development at the CNPA, Kate Christie commented: "We are delighted to be recognised in this way for our efforts in ensuring we have a happy workplace. We were particularly praised for our Purchasing Additional Annual Leave policy, that Dad's get six months full pay for shared parental leave and for our Menopause support group.
"We strive to ensure that the CNPA is a great place to work and that starts with ensuring that we create an environment that is a family friendly one. We know that if we achieve this, then we have happy employees and happy employees have a positive impact on our effectiveness as an organisation.
"We can also demonstrate that being family friendly employers results in a more engaged and resilient staff with our sickness levels below the national average and declining annually."
The Scottish Top Employers for Working Families Awards 2019 are designed to celebrate forward-thinking employers that have created a flexible, family friendly working culture.
The CNPA has a variety of family friendly initiatives and policies including offering flexible working patterns, working from home, excellent maternity and paternity allowances as well as various internal support groups. A childcare voucher scheme and special leave for parents to attend to sick children are among the other initiatives that the CNPA operates. There is also special training for managers which focuses on three key policies, one of which is the importance of a healthy work-life balance.
Sally MacKenzie, a Conservation Officer at the CNPA commented: "I have two young children and living in a rural area my childcare options are limited. The family friendly flexible working policy has enabled me to work part-time hours over the week meaning I can come in later when I need to drop the kids off or finish early in time to pick them up from school. I really appreciate this and can testify that it reduces stress at work and at home."