Minister presents 25,000th John Muir Award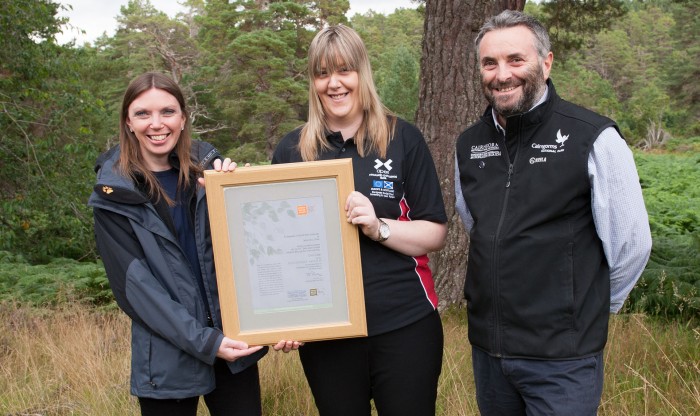 The 25,000th John Muir award to be completed through the Cairngorms National Park Authority was presented today by the Minister for the Environment, Climate Change and Land Reform, Dr Aileen McLeod.
Attending a special event at the RSPB Abernethy Nature Reserve, the Minister met with the recipient of the award Ms Grace Moir.
The John Muir Award is an environmental award scheme, open to all, that encourages people to connect with, enjoy, and care for wild places. Grace completed the John Muir Award after being referred to Apex Scotland for help with her alcohol addiction. She took part in an outdoor project with Abriachan Forest Trust to improve her health and wellbeing whilst on a 14 week residential programme at Beechwood House in Inverness. Grace has now left Beechwood but she continues to work with Apex and has amassed more than 300 volunteer hours on the outdoor project. She has become a Peer Mentor and now supports other service users while maintaining her sobriety.
Minister for Environment, Climate Change and Land Reform, Dr Aileen McLeod said: "It is a fantastic achievement to have delivered 25,000 John Muir Awards through the Cairngorms National Park and I am delighted to be able to be here to present this special award to Grace. One of the Scottish Government's key objectives is increased health and wellbeing, so it is wonderful to see how Grace has managed to turn her life around by working in and connecting with this unique environment."
Peter Argyle, Convener of the CNPA said: "It has long been known that spending time in wild and rural spaces can significantly improve people's sense of wellbeing. The Cairngorms National Park is one such place, and this award in particular demonstrates how our engagement work through the John Muir Award in and around the National Park is making a real difference to people's lives. "
Peter Pearson, Chairman of the John Muir Trust said "We are proud of our association with the Cairngorms National Park. Reaching the 25,000th John Muir Award milestone through the national park is excellent, but the partnership success goes beyond the numbers of people doing their Award.
"The credibility of the partnership built up over the last 12 years in the Cairngorms is significant. Since the formal partnership was put in place in 2003, the John Muir Award has grown and is now being used in all 15 national parks across the UK. It is a proven model in the Cairngorms that raises awareness and understanding of the area's special qualities, encourages nature conservation and helps get people enjoying the outdoors. A natural fit for both organisations."