Much loved path given a new lease of life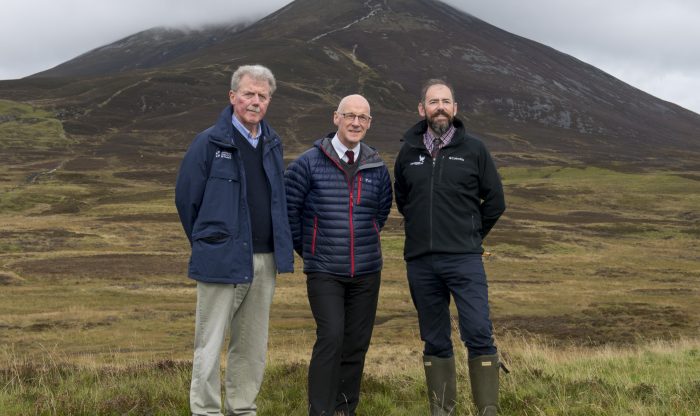 John Swinney MSP views Beinn a'Ghlo path following extensive repairs.
For long enough, travellers on the A9 heading between Perth and Inverness will have noticed the obvious erosive mountain scar on Beinn a'Ghlo in the Cairngorms National Park. But not any more!
Overseen by the Outdoor Access Trust for Scotland (OATS) extensive path repair and upgrading works on the Carn Liath path on Beinn a'Ghlo have just finished and local constituency MSP, John Swinney was there today (Friday 27th September) to see for himself the vast improvement to the path and the surrounding habitats and soils. He also met with some of the people who were involved in the repair of this much loved route including contractors, path trainees and volunteers. 
Beinn a'Ghlo – to the north east of Blair Atholl – was identified as a priority as part of the five year, National Lottery Heritage funded 'The Mountains & The People' (TMTP) project with the total cost of repairing and upgrading this route being just over £226,000, with £60,000 coming from the 'Mend our Mountains: Make One Million' campaign.
Last summer, work began to repair the path – a key route in the Upland Path Network in the Cairngorms National Park, and as a result of carefully managed works – the prominent erosive mountain scar has been narrowed down to a well-constructed defined path line.
Speaking today, John Swinney MSP said: "It's an honour to officially re-open the Beinn a'Ghlo path. Beinn a'Ghlo is one of Scotland's most iconic walks, and I am therefore delighted that, as a result of significant financial investment, it's been repaired and is now accessible and enjoyable for members of the public once more. This is a prime example of various stakeholders working together for the common good. I wholeheartedly congratulate all parties involved on achieving such a positive outcome for the Cairngorms National Park and I am confident that the substantial upgrades to this path will prove popular with hill walkers in the months and years ahead."
Ian Moffett, OATS Chair commented: "We are delighted to see the completion of this key project for The Mountains & The People project and OATS, none of which would have been possible without the support of a range of partners and funding from the National Lottery.
"The state of the path was so bad that is was ranked a Priority 1, the highest priority possible in path survey methodology. Some areas required only a light touch approach but other sections required full hand build techniques to repair significant damage. In all some 342 metres of raised path surface was constructed with 407 metres of side drains and 943 metres of stone pitching.
"The works have resulted in an improvement to the landscape and vegetation on Beinn a'Ghlo, a better, safer experience for walkers and of course – one of key elements of TMTP – the experience has contributed to our path trainees gaining their SVQs in Environmental Conservation."
Also attending today's event was CNPA board member Doug McAdam. He said: "Beinn a'Ghlo is one of my favourite ridge walks in Scotland. I have climbed it many times over the years so have seen first hand the increasing damage brought about by unintentional but sustained user pressure. The last time just last month, so I have already experienced the new path works first hand and what an excellent job.
"Hill walking is one of the top reasons why people come to the Cairngorms attracting over a quarter of a million people each year to explore our mountains so we want it to be a safe, enjoyable and sustainable experience. Improving the Beinn a' Ghlo path, along with another 100km of mountain paths in both National Parks gives visitors a great experience and helps prevent unintentional damage to nature of ever expanding, unmanaged, paths and trails."