National Park projects awarded over £275k investment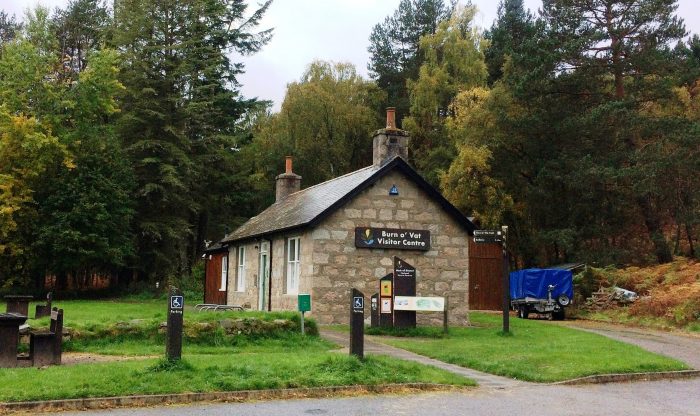 Two projects in the Cairngorms National Park have today (5 October) received a huge boost in the form of grants totalling over £275k.  The funding comes from the Rural Tourism Infrastructure Fund which Scottish Government has set up to invest in infrastructure projects to improve  the visitor experience and enable more visitors to enjoy Scotland's rural communities.
The money will be used to enhance and upgrade facilities at two National Nature Reserves at Muir of Dinnet, near Aboyne and Glenmore, near Aviemore.
The Cairngorms National Park is the only accredited Sustainable Tourism destination in Scotland.  The National Park has seen an increase in visitor numbers of 25% since it was created fifteen years ago, that equates to over 1.8m people. In Aviemore and Glenmore numbers have increased by 22% in the last eight years alone and visitor figures are expected to increase still further.
Murray Ferguson, the Park Authority's Director of Planning and Rural Development explained:  "We are delighted with this  further investment in the Cairngorms National Park.  Visitor numbers have increased across the Cairngorms in the last few years and it is essential that our infrastructure – the paths, bridges, carparks, etc.– are in good condition so that visitors have the best possible experience .  This is all part of our approach to the management of the Park as a sustainable tourism destination.
"At Glenmore the project will provide a new and enhanced path, and associated parking arrangements, to link the visitor attractions and accommodation in Glenmore. This will make it easier, safer and more attractive for visitors to walk and cycle in the key visitor hotspot within the Cairngorms National Park.  It will help to reduce any negative impact on the environment and lead to greater economic benefit to tourism businesses.
"At Muir of Dinnet National Nature Reserve we will be improving the visitor experience with an upgrade to the car park and toilet facilities at the Burn o Vat visitor centre.  The capacity of the toilet block will be increased and there will be special provision for dealing with waste from motor homes, reducing the effect of campervan parking in the local area.   The project will also support an anticipated increase in visitor numbers which will benefit local businesses and support local employment."
The Cairngorms National Park Authority worked closely with local communities these projects are being delivered in partnership with multiple organisations including Forestry Commission Scotland and SNH who manage the  two sites.