New bridge to take the strain at Gairnshiel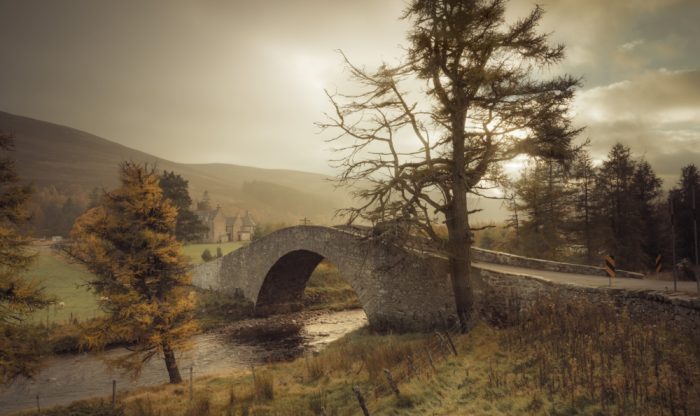 A historic bridge in Deeside is set to retire from the strain of motorised vehicles after planning permission was granted today (Friday 11 December) for a new bridge over the River Gairn.
The Gairnshiel Bridge, near Ballater, was built between 1748 and 1752 as part of the Hanoverian military road network. However, the Grade A-Listed structure is not suitable for modern vehicular use and has suffered damage over the years with increasing amounts of traffic on this popular tourist route linking the Upper Deeside and Upper Donside Valleys.
The proposed development before the Cairngorms National Park Authority (CNPA) Planning Committee this morning, involves the erection of a new vehicular bridge and road bypass over the River Gairn to replace and help the preservation of the original bridge. The proposed new river crossing will sit to the east of the existing bridge with the design being of a high quality using materials to complement the old bridge and surrounding landscape.
CNPA Planning Officer Stephanie Wade recommended the application for approval. Outlining the proposals she said: "Permission is sought by Aberdeenshire Council to erect a new bridge crossing over the River Gairn with associated approach roads, closing off the original bridge from public vehicle use. The proposed new route is sought to accommodate safer traffic movement whilst conserving the Category A-Listed structure by removing it from further potential vehicle damage.
"This is a key route within the National Park running between Tomintoul and Braemar, being promoted as the Snow Roads Scenic Route and the principle of maintaining this route is welcomed."
Chairing her last meeting as Planning Committee Convener, Eleanor Mackintosh said: "It's very clear that action needs to be taken both to protect the beautiful and historic Gairnshiel Bridge and to make the route more accessible and safer for modern traffic. While I may have reservations about the introduction of a new feature in this significantly historic landscape I appreciate that it is badly needed and will make a world of difference to that route. I am therefore very happy to approve this application."
To read the planning papers in full please go here.