Park Talk: Enjoying nature all year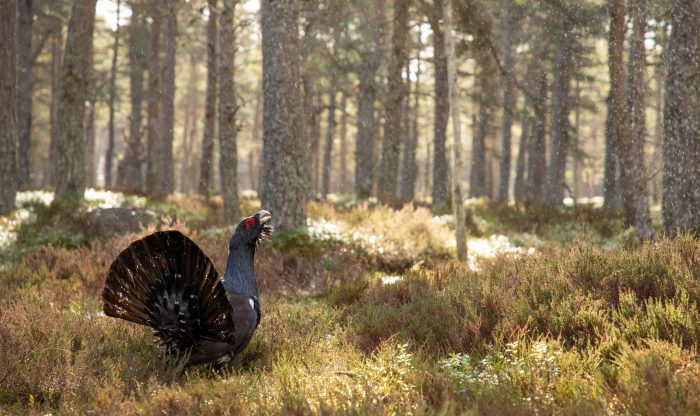 By Xander McDade, CNPA Convener
That's the Cairngorms Nature Big Weekend over for another year – it was a massive success. I would like to thank all the CNPA staff, partner organisations, local estates, ranger services and volunteers who contributed to this celebration of what makes the Cairngorms National Park so special.
There was a fantastic array of activities for both young and old to enjoy and indeed, I heard many people say they struggled to choose what to attend as the quality of events on offer was so impressive. I personally can't wait until next year!
But I don't really have to wait another 12 months to enjoy the spectacular natural sights and sounds of the Park – I am lucky enough to live and work here so I can enjoy and appreciate it 365 days of the year. A fact I will never be complacent about. The Cairngorms Nature Big Weekend is a brilliant event to focus our attention on nature conservation and is great for helping those that are 'new to nature' to learn and experience things they haven't before.
For those of us fortunate enough to live here, we can walk out of the door, into the local woodlands and without much effort witness roe deer, red squirrels, buzzards, song thrushes and so on. Some of the more elusive species may take a bit more work to find but that doesn't mean they aren't there!
Did you know that 49 per cent of the Cairngorms National Park has been recognised as being of international importance for nature? There are 19 Areas of Conservation, 12 Special Protection Areas, 46 Sites of Special Scientific Interest and nine National Nature Reserves.
Some of the most important woodlands in Britain grow here with native tree species comprising 79 per cent of the National Park's woodlands. More than half the surviving Caledonian forest can be found in the Park providing a home for uncommon species like the Scottish crossbill and the very rare capercaillie.
The Park holds Scotland's largest extent of bog woodland, a European priority for conservation, where dragonflies, spiders, amphibians and mosses are to be found. Large wetlands and their associated bogs and fens are havens for wintering wildfowl and for creatures such as rare water beetles to thrive. Two of the major wetlands in the Park are globally-recognised RAMSAR sites. Insh Marshes is Britain's largest naturally functioning floodplain while, Muir of Dinnet is a large mosaic of heath woodland and mire, including peat bogs, swamps, fens and two lochs.
Some of the UK's best breeding populations of wading birds such as red shank, lapwing, curlew and snipe can be found in our wet grasslands and our rivers are home to nationally important populations of Atlantic salmon and the globally endangered freshwater pearl mussel.
A fact I never get bored of, is that a quarter of the UK's rare and endangered species live in the Cairngorms National Park yet the Park covers less than two percent of the UK's landmass. It's a national park that is truly 'punching above its weight'. So while I very much look forward to the 2020 Cairngorms Nature Big Weekend, I will be enjoying Cairngorms Nature all the year through – there is just so much of it!