Pat on the back for Park rangers on World Ranger Day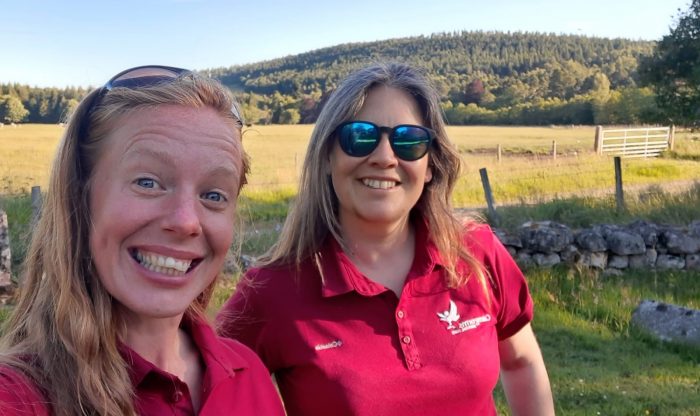 Rangers working in the Cairngorms National Park are here to provide a warm welcome to visitors and support everyone to enjoy the outdoors, as well as carry out various nature conservation activities. However, this summer is proving to be the busiest and most challenging many of these experienced outdoor professionals have witnessed in terms of visitor management issues.
With more people choosing a camping holiday at home as opposed to a trip abroad – coupled with some facilities remaining shut or slow to re-open – it is taking a tremendous partnership effort under the banner of #CairngormsTogether to ensure that everyone stays safe during their visit to the Park.
The Cairngorms National Park has thirteen ranger services caring for and protecting the Park for future generations. These rangers are employed by a variety of organisations including local authorities, private estates, charitable trusts, etc, grant aided by the Cairngorms National Park Authority (CNPA).
For the first time in the Park's 17 year history, a group of seasonal rangers have also been employed directly by the CNPA and are proving invaluable at this time.
Alan Smith of the CNPA's Visitor Experience Team is co-ordinating the work of the seasonal rangers. He explained: "We anticipated that as national rules and guidance changed around Covid-19 there would be a need for additional boots on the ground to help manage how people access the Cairngorms National Park to ensure that physical distancing and wider health guidance is adhered to, our environment is protected and our communities feel safe.
"Working to support existing ranger services, our seasonal employees are on patrol at key sites across the Park and we know from land manager feedback that their presence is greatly appreciated. They certainly hit the ground running when they took up their roles back in June.
"It's great to see so many people returning to enjoy the Park – and although most visitors are behaving responsibly – there are some that have been irresponsible in terms of their litter, human waste and fires. The Park's rangers have spent a considerable amount of time talking to people to help them understand what responsible outdoor access looks like as well as often having to cleaning up the mess that's been left behind.
"We are fortunate here in the Cairngorms to have such a professional and experienced team of rangers both employed by others as well as directly by the CNPA."
Today (Friday 31st July) is World Ranger Day.