More people love the Cairngorms National Park as it 're-opens'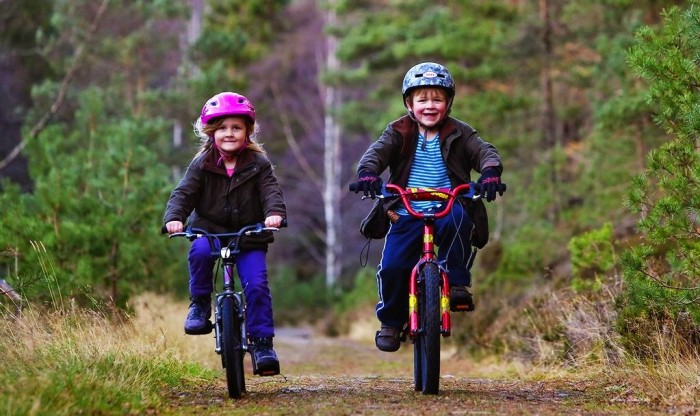 As the Cairngorms National Park emerges from the Covid-19 lockdown, and prepares to welcome visitors again today (Wednesday 15 July) a new survey shows that it is a top destination with visitor satisfaction at an all-time high and 96% of visitors agreeing that they 'love this place'.
Thousands of visitors were personally interviewed for the Cairngorms Visitor Survey which took place from May 2019 to March 2020.  Participants gave the Park a huge score of 9 out of 10 for satisfaction, with almost all respondents rating the customer service they received from tourism businesses as good or very good.  The survey also shows that whilst visitors from overseas have increased in the past five years, almost three quarters came from the UK and nearly half of the visitors were from Scotland.  This will be a vital boost to tourism businesses as people in the UK who have had to cancel their foreign holidays this year look for alternative destinations.
In addition to the Cairngorms Visitor Survey results, the latest STEAM data figures are out and show the highest ever recorded amount of people coming to the Cairngorms in 2019 with visitor numbers at over 2million –  an increase of 7.5% on the previous year.
Grant Moir, CEO of the Cairngorms National Park Authority (CNPA) said,
"The Cairngorms National Park is a world class destination and we work very closely with our partners and the business community to ensure that visitors have an experience to match.  This is undoubtedly the most challenging time that the tourism industry has ever faced but these figures are really very encouraging because they show that, prior to the pandemic, the visitor economy in the Cairngorms was exceptionally buoyant and more people than ever are choosing to visit.
"The survey shows that our businesses here in the National Park place huge importance on customer service. This philosophy is demonstrated by the exceptional effort that businesses have put into reopening, having measures in place to meet COVID guidelines and ensuring that everyone has a safe and enjoyable visit."
The first Cairngorms Visitor Survey took place in 2003, and is repeated every five years, one of the key areas of the survey is to find out if visitors can suggest any improvements that would have made their visit more enjoyable.  These suggestions have resulted in adjustments and improvements being made over the years, which can be seen in the increased satisfaction rating of this latest set of results.  One area which continues to be highlighted is public transport and public toilet facilities, where improvements can still be made, although 1 in 10 also said they would like better weather!
Mark Tate is the Chief Executive of the Cairngorms Business Partnership, he had this to say, "This is a really tough time for all businesses, those in the tourism industry are particularly hard hit. Unfortunately, we already know that some businesses won't be able to reopen and having zero income for a third of the year will take a long time to recover for others. The results of both the visitor survey and the latest STEAM figures are encouraging and demonstrate just how much our visitors value everything we have to offer in the Cairngorms. In turn, we really value our visitors, we have missed them and it is fantastic to be able to welcome them back. Our own visitor survey, undertaken during lock down, also gave encouragement with 68% of respondents saying that they definitely want to come back in the next 12 months."
Businesses are ready to welcome back visitors to the National Park this summer and are advising everyone to check the latest guidance, plan ahead, be ready to adapt plans if necessary and to be kind – the safety of visitors and those people who live and work in the Park is the priority.  To help with that www.visitcairngorms.com has an up to date list of what tourist attractions and businesses are open and www.cairngorms.co.uk has COVID advice on how to enjoy the National Park safely, as well as a list of which carparks and toilets are now open.
The full survey results can be viewed at:
https://cairngorms.co.uk/wp-content/uploads/2020/07/10304-Cairngorms-Visitor-Survey-2019-20-Final-Report-100720-FINAL.pdf
Ends.