'Pride of the Park' celebrated at Grantown Show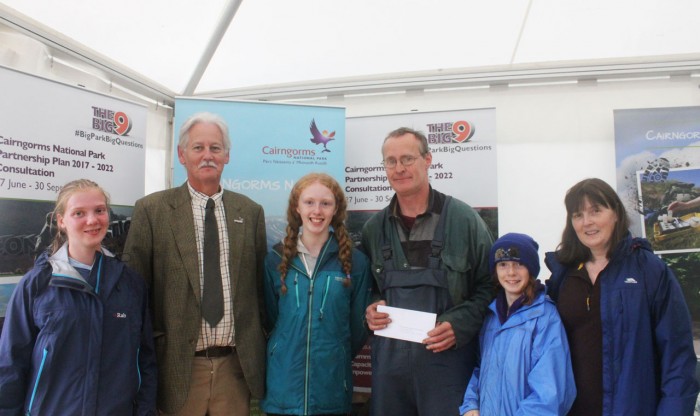 The Pride of the Cairngorms National Park was celebrated at the Grantown Show last week (Thursday 11th August).
The Cairngorms National Park is home to some of the highest quality farming in the UK. Now in their fourth year, the Pride of the Park awards showcase the best of farming, equestrian and domestic science in the National Park.
This year the CNPA's Pride of the Park awards are sponsored by Elephants in the Pantry, who support locally sourced Cairngorms produce. Each winner received a voucher to be spent in their Grantown-on-Spey shop.
Receiving the 2016 Pride of the Park rosettes were:
Sheep: Joint winners, Gemma Macintosh from Boat of Garten and Jim Simmons from Tomintoul.
Cattle: J Irvine and Son
Horse: Ellen Grant
Domestic: Mrs Val Inglis with her felted cow
As co-sponsor of the Grantown Show, Will Boyd-Wallis, Cairngorms National Park Authority's Head of Land Management & Conservation was at the Show, he said: "We are delighted to support the Grantown Show, every year there is a fantastic showcase of livestock, horses and domestic delights and this year is no exception. A healthy farming industry is crucial to the Cairngorms National Park not just for our economy but for our landscapes and wildlife too."
Launched last year, the winner of the Cairngorms Nature Farm Award was also announced.  This special award rewards a farmer or crofter who has made a substantial contribution to the natural environment around them.
This year the winner is Jim Simmons of Ruthven Farm in Glenlivet who received a plaque as recognition for his good work as well as a prize of a night for two, with dinner, at the Cairngorm Hotel in Aviemore.

CNPA Convener Peter Argyle presented the prize to Jim, he commented: "Without farmers and crofters in the Cairngorms National Park we would lose many of the species, habitats and landscapes that we all know and love. The winner of this award shows outstanding passion for the environmental work he has carried out on his farm. Jim Simmons has managed to strike a perfect balance, allowing the farming business and the habitats and species on it to thrive together. Like last year's winner he has shown that farmers make an invaluable contribution to the Landscape in the National Park."

Jim Simmons said, " I am honoured to win the Cairngorms Nature Farm Award.  The way we farm is a four pronged approach, we start with a favourable habitat, we have a farm management plan, but crucially we have the support of the Crown Estate and benefit from the wider sporting management of the estate.  I am a firm believer that our success comes from all these four elements working in partnership."
The Cairngorms Nature Farm Award was judged by a panel of judges representing both Cairngorms Nature and the farming community.
Ends.