Protect wildlife – dogs on leads please!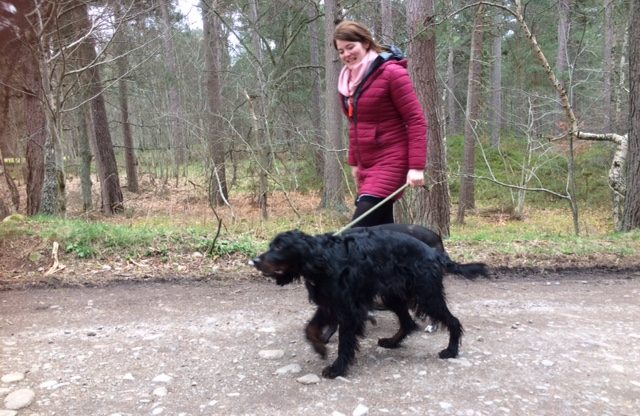 The clocks went forward at the weekend which always heralds the start of spring, longer days, better weather and the chance to enjoy those daily dog walks even more – but please spare a thought for our vulnerable ground nesting birds by ensuring your dog is on a lead in sensitive areas this spring and summer.
It is a very important time of year for our ground nesting birds and with the Cairngorms National Park being home to a great variety of species, it is crucial that we all 'tread lightly' – and those of us with dogs – ensuring they are kept on a lead between April and August.
Adam Streeter-Smith, an Outdoor Access Officer at the Cairngorms National Park Authority (CNPA) said: "From lapwings and curlew in wetland areas to capercaillie in the woodlands and dotterel on the high tops – all these species are vulnerable to disturbance by human activity. If you are passionate about the Cairngorms National Park and the amazing wildlife that makes it so special our advice for dog owners is that you can help by using paths in sensitive areas, and keep your dog on a lead, or at least, under very close control. For all other users – walkers, bikers, horse riders – please be mindful of your potential impact on ground nesting birds and follow on site guidance"
The Scottish Outdoor Access Code asks people to act responsibly by keeping their dogs under close control or on a short lead in areas like moorland, woodland and forests, during the bird breeding season which lasts from April through to mid-August.
Glyn Jones, Head Ranger on the Balmoral Estate in the Cairngorms National Park commented: "With access rights come responsibilities and no-one has the right to allow their dog to disturb, chase or attack the wildlife of the National Park. We all have a role to play in ensuring that our ground nesting birds get their breeding season off to a good start and if that means keeping your dog on a lead then please do so."
Andy Ford, Cairngorms Nature Manager at the CNPA said: "Dogs are 'man's best friend' but sadly that is not the case if you are a ground nesting bird. In certain areas like forests or wetlands dogs can be a real threat to wildlife. Your pet may be well behaved but it doesn't take much for a nesting female to be disturbed and scared away from the nest, leaving eggs to chill, young to die of cold or fall prey to other creatures."
For more information please visit the Scottish Outdoor Access Code website: https://www.outdooraccess-scotland.scot/