Regeneration Award for Tomintoul & Glenlivet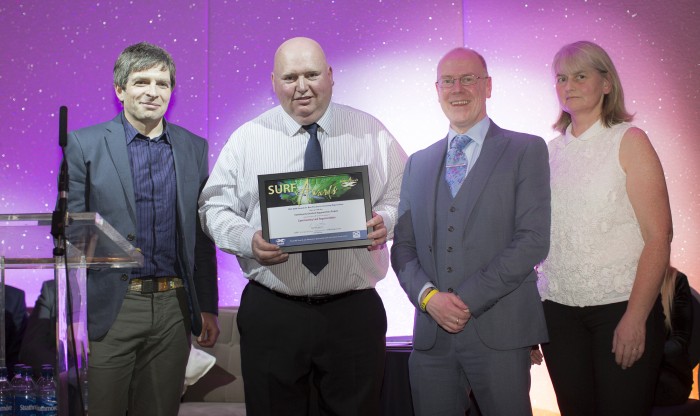 Hot on the heels of the Heritage Lottery Fund awarding the Tomintoul & Glenlivet Landscape Partnership project £2.34million – the Tomintoul & Glenlivet Development Trust (TGDT), who were instrumental in the bid, have picked a SURF award!
The 2016 SURF Awards, organised by Scotland's Regeneration Forum, were held earlier this week in Glasgow and the TGDT were announced winners of the Community Led Regeneration category.
Accepting the award Mark Finnie Chairperson of TGDT said: "This award represents recognition from peer organisations for the dedication and hard work of the thousands of volunteer hours put into the project. We are grateful to all our funders and supporters particularly Highlands and Islands Enterprise, the Cairngorms National Park Authority, Moray Council and the Crown Estate.
"In addition to the recognition for the Trust and communities of Tomintoul & Glenlivet, the award will bring opportunities to share our substantial experience of developing and delivering community led regeneration projects and opportunities to learn from others.
In October, the Heritage Lottery Fund announced a grant of over £2million to support regeneration projects in this special area of the Cairngorms National Park, with the TGLP having a wealth of exciting initiatives lined up and ready to go. The vision is for the communities of Tomintoul & Glenlivet to share and celebrate the hidden heritage of the area, building on the economic regeneration already underway and significantly enhancing the landscape, heritage, skills and development opportunities in the long term. Twenty projects are planned over a four-year period with the youngest to the oldest members of the communities getting the chance to become involved in learning new skills uncovering hidden history and celebrating their heritage through music and events.
More information on the SURF awards can be found here.
More information on the Tomintoul & Glenlivet Development Trust and the Landscape Partnership Project can be found here