Responsible Mountain Biking in the Cairngorms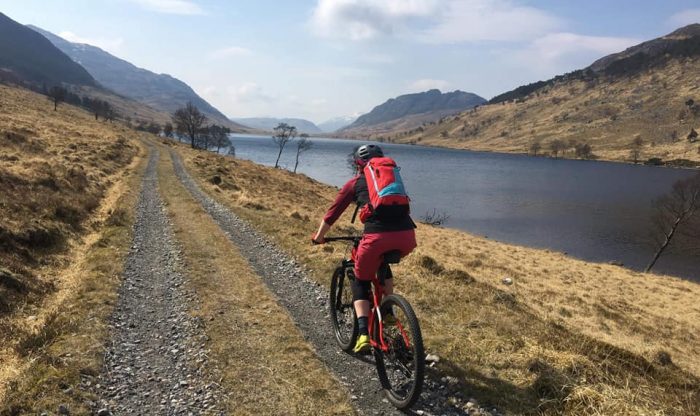 By Sally Devlin – Cairngorms Outdoor Access Forum member
I am lucky enough to have been brought up here in the stunning Cairngorms National Park surrounded by an extensive range of walking trails, mountain bike routes and road cycling routes. It's not surprising that I now spend the majority of my free time riding bikes! In addition to spending my free time on two wheels I also work within the bike industry at Mikes Bikes Aviemore a family run bike shop. We provide a range of services from bike rental, bike tours, repairs and of course sales of shiny new bikes.
As much as I love heading out exploring new trails on my bike living in the National Park I understand however that we have to be mindful of our surroundings and ultimately, take care of our trails. That doesn't mean that you have to grab a shovel and start digging out trails, trail etiquette can be a huge number of things. In this little blog I have highlighted a few small changes you can make when you are out on the trails to reduce your impact on our National Park and keep everyone happy.
One huge way that you can reduce your impact on the trails is by taking home your wrappers. I would confidently say that on every ride I go out on I see at least one energy bar or food wrapper. It takes two minutes to pop your rubbish in your backpack, or even still pick up the wrappers that you see on the trails – regardless of whether they belong to you or not. Where do you think they go? If nobody collected them up we would simply end up with paths littered along the side – not the reason you choose to cycle in the national park is it!
In line with the DMBinS 'Do the Ride Thing' (a great website to check out by the way) you also need to be mindful of where you are heading riding and plan ahead to keep everyone happy. If you are heading somewhere that isn't your usual riding spot then make sure you are not going to be disturbing land managers and workers. This can be anything from riding through estates and interrupting deer stalking or heather burning or checking there is no felling works going on in a forest that you may be looking to ride through. In addition be aware that some land managers might not want routes through their land published on websites such as STRAVA or mountain bike blogs, always check with them before you promote rides or route. The last thing we want to do as mountain bikers is upset people that live, work and own land that we want to ride on, one upset land manager could have a huge affect on the trails we want to ride.
An additional way in which you can continue to keep a good relationship between riders and landowners and reduce your impact in some areas is to ensure you are up to date with all of the latest guidance on unauthorised mountain bike trails. It's tempting when you are out on your bike to start adapting existing trails by building jumps or new routes around obstacles. Although to you it seems like a small adaptation, if everyone is doing this then suddenly we have potentially dangerous features on the trails, or are affecting sensitive areas of woodland. Before you start adapting or building trails there are a couple of key things you should do, these include :
Contacting your local National Park access team for further information or guidance or your local authority access officer.
Liaising with existing trail building groups or associations in your area, the chances are they already have a great relationship with local land managers.
Obviously there are lots of other things you can do to take care of your trails and I'm sure you all do your own bit, I have simply highlighted a few points that are important to me. Personally I am lucky to live in a National Park and want to play a part in keeping it a fantastic place to ride, walk and adventure!