Roseanna Cunningham opens Cairngorms Climate Conference "Net Zero with Nature"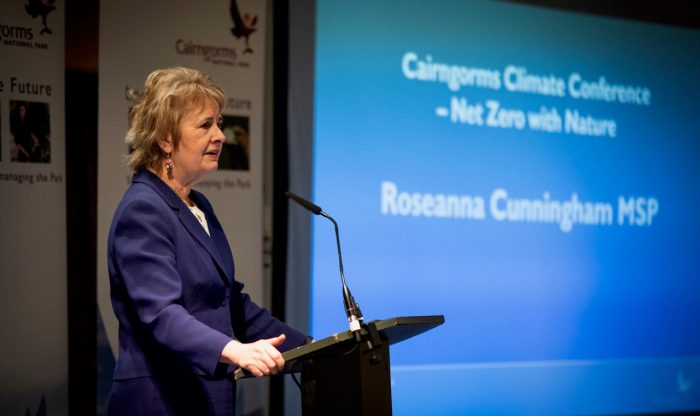 "The global climate emergency is the single biggest threat to our future and we must act now" this is the message Roseanna Cunningham, Cabinet Secretary for Environment, Climate Change and Land Reform gave to delegates at the Cairngorms Climate Conference today (Monday 9 March)
Hosted by the Cairngorms National Park Authority (CNPA) 180 delegates were invited to the 'Net Zero with Nature' conference to address the climate crisis and what needs to happen in the Cairngorms National Park to tackle the issues.
Delegates heard from Chief Executive of the Committee on Climate Change, who gave a hard hitting presentation of the situation and also Prof Alison Hester and Dr Mike Rivington from the James Hutton Institute who spoke about the recent Snow Report for the Cairngorm Mountains.
Roseanna Cunningham, Cabinet Secretary for Environment, Climate Change and Land Reform said, "With a target of net zero by 2045, Scotland has one of the most ambitious approaches to climate change in the world.  The Cairngorms National Park is ideally placed to showcase how the transition to a net zero economy and society can take place in Scotland, with significant action already happening on peatland restoration, woodland expansion, active travel, community projects and much more. But this is just the start. This conference is about establishing the net zero route map to 2045, within the National Park."
Chris Stark, Chief Executive of the Committee on Climate Change said,  "Scotland has committed to Net Zero by 2045. It's a bold ambition and one that now requires real leadership. Cairngorms National Park is uniquely positioned to lead the changes we need to see in the natural environment – and to demonstrate how we can enjoy nature while meeting our climate obligations."
The afternoon session was set aside for discussing the various separate issues facing the National Park and finding opportunities for change.  Delegates heard from key speakers on the topics of land use, active travel, biodiversity and community development.  The key goal of the workshops was to look at what solutions should be considered as part of the next National Park Partnership Plan.
Grant Moir, CEO of the CNPA said, "We invited key leaders and decision makers to the conference today with the goal of finding ways to tackle the climate emergency in the Cairngorms National Park.  It has been inspiring to see so many different partners in the Cairngorms National Park  working together to look at how we tackle the climate emergency in the Park.
"The CNPA will take the ideas and conversations from today and work with all partners and stakeholders in the Cairngorms to provide a clear direction for the coming months and years. The next National Park Partnership Plan will be key to setting out the approach to the Cairngorms helping Scotland achieve net zero by 2045"
For more information on the CNPA's approach to the Climate Emergency and to read the Board paper Net Zero with Nature please visit  https://cairngorms.co.uk/working-together/the-climate-emergency/
ENDS