A Skillful Finish for the Cairngorms Nature BIG Weekend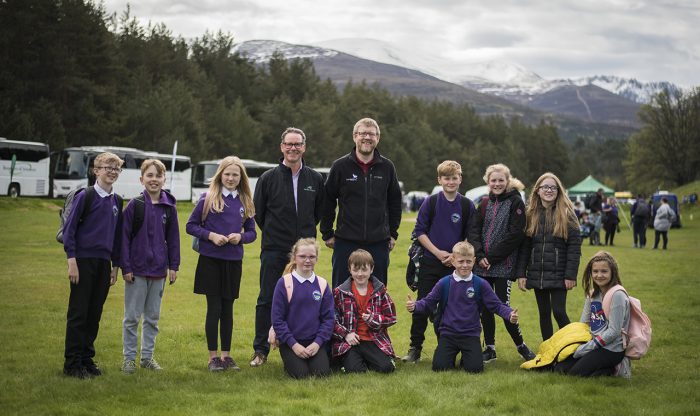 The Cairngorms Nature BIG Weekend culminated today with over 200 school children attending the Rural Skills Day event in Glenmore Forest.
School children from in and around the Cairngorms National Park gathered in Glenmore Forest Park to take part in hands-on activities & demonstrations, covering the many rural skills that take place in our landscapes and communities.
Creating sustainable rural communities and job opportunities for young people in the Cairngorms National Park is vital.  Local companies and organisations came together today at Glenmore to give the children the opportunity to try out new skills, and inspire them to find out more about rural career options.
The event was sponsored by Forest Holidays as part of their National Parks Futures initiative which aims to connect 20,000 young people with nature over the next five years.
Bruce McKendrick, CEO of Forest Holidays, said:
"The UK's National Parks are breathtaking and inspiring landscapes of which we should all be proud. Our generation has a responsibility to offer young people the opportunity to experience these places first hand and it's a pleasure to observe the positive impact spending time in nature provides. For too many young people there are practical challenges of accessing places like this and we are committed to changing that. Most young people care deeply about the world in which they live and as more and more make their voices and passions clear, it's important that we all listen and respond in meaningful ways."
Grant Moir, CEO of the Cairngorms National Park Authority, said:
"This partnership with Forest Holidays means that school children and young adults who live in and around the UK's largest and most northerly National Park can benefit from first-hand experience of rural skills that care for our natural world. It will encourage the younger generation who are considering their future career options to think about opportunities which allow them to live and work in rural communities and to get more involved with nature."
Young people were also the stars of the show at the Cairngorms Nature Schools Art Competition final in Carrbridge on Sunday. The theme was lochs and rivers and hundreds of entries were received,  local artist Justin Prigmore had the hard task of choosing the overall winners.
Georgie Grant from Carrbridge won the Nursery – P3 age group and Maria Mackellaig from Newtonmore won the P4 – P7 category. Both winners received wildlife watching goodies and a trip to the Highland Wildlife Park for their whole class.