Speyside project Highly Commended at National Awards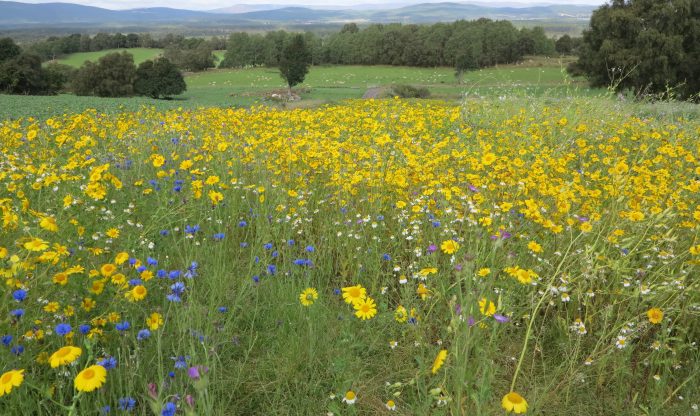 Speyside Fields for Wildlife was awarded a Highly Commended in the Community Initiative category at the RSPB's prestigious Nature of Scotland Awards, which took place virtually last night (Wednesday 25 November). The conservation project was one of five shortlisted projects in the Cairngorms National Park.
The annual award finalists are usually announced at a glittering evening dinner, but instead, the ceremony was hosted live online by TV presenters Steve Backshall and Euan McIlwraith, with a mixture of live and pre-recorded clips from other contributors.
Speyside Fields for Wildlife is a community-run project that encourages local farmers and landowners to provide seed crops for farmland birds, offering both advice and financial support. Summer flower meadows have been established in locations across Strathspey which benefit a range of insects including bees, butterflies and other pollinators. Despite the Covid restrictions this year, the project has been able to work on eight different sites which will provide a secure food source for a wide range of wildlife into next year.
Desmond Dugan Leader of Speyside Fields for Wildlife said, "I am delighted the panel of judges have given Speyside Fields for Wildlife Group a Highly Commended. The project demonstrates how by working with our local community and land managers we can all make a difference. Recognition through these prestigious awards may help to inspire others to support our project or to create their own wildlife fields."
Lucy Ford, Conservation Engagement Officer at the Cairngorms National Park Authority said, "The Speyside Fields for Wildlife project is a wonderful community initiative that benefits people as well as wildlife. Birdwatchers regularly visit the sites throughout the winter to observe and photograph the mixed bird flocks that have been attracted and in the summer the sites provide colourful flower meadows which are appreciated by long distance walkers and local people. It is fantastic to see their work being recognised at a national level."
There were a total of five projects from the Cairngorms National Park to be shortlisted; Scottish Wildcat Action for the Innovation Award, the Peesie Project for the RSPB Species Champion Award, Dee Catchment Partnership in the Coasts and Waters category and Peatland ACTION who received a Highly Commended in the Nature and Climate Action category.