Variety is the spice of life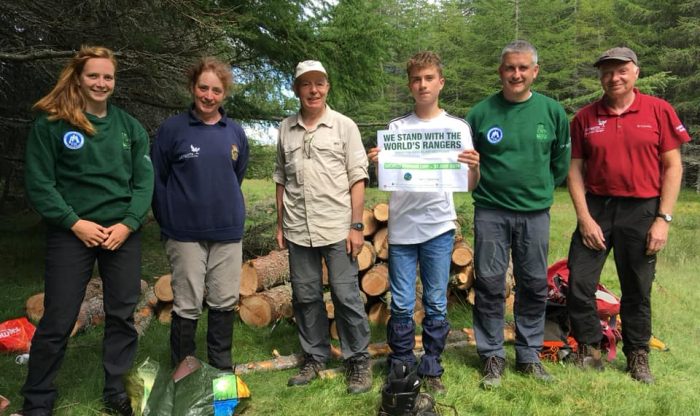 Glyn Jones Head Ranger for the Balmoral Estate Ranger Service talks about the comings and goings over the last few months…
They do say that variety is the spice of life and a ranger's job is always very varied. One of the most stimulating parts of being a ranger is that the work changes from season to season and evolves from year to year. The last few months have been an excellent example of this at The Spittal of Glen Muick, where we have a strong ranger presence.
Fiona Smith is our full time ranger and Juliet Freeman-Allam has worked in the visitor centre throughout the busy summer months providing advice and information to the general public as well as running a small shop, we are also supported by Volunteer Rangers assisting some weekends. A lot of the work on that side of the estate is to do with mitigating the impact that over one hundred thousand visitors have on the fragile landscape. To help us monitor the numbers we have visitor counters at key access points across the estate, these are either pressure pads buried in the path or infra-red beams. The results show that although visitor numbers are high, they don't seem to be increasing.
Looking after the network of paths and bridges
Often exasperated by the increasingly regular heavy downpours that we seem to have during the summer, the Balmoral Rangers undertake a program of maintenance on all the upland paths, of which there are about 100kms. This year we also have a team of contractors employed by the Outdoor Access Trust for Scotland working on the main Lochnagar path and further major works planned on Broad Cairn, the Glas-allt Shiel path and the Loch Muick circuit path. This year we have been lucky in securing a grant from the Cairngorms National Park Authority to renew some of the interpretive boards at the visitor centre and at the moment we are working on a smashing new map board which we hope will prove useful to hillwalkers for years to come.
Native woodlands around Loch Muick
There are several native woodland enclosures near Loch Muick which require constant maintenance and Fiona is very thorough with her checks of these and does a good job of keeping them deer proof. We have also been helping to progress a new large native woodland enclosure near Loch Muick and this has involved undertaking peat depth and archaeology surveys.
Engaging with young people
Part of our job is to engage with the general public, and we target young folks in particular. We have a very active Junior Ranger program involving pupils from Aboyne and Alford Academies who attend regular events with us on the Estate. This year we have been teaching the junior rangers the importance of bogs and they have undertaken some excellent peatland restoration work with us. Earlier in the year I was lucky enough to take our junior rangers to a winter camp in the Bavarian Forest National Park. It's great to see our junior rangers interacting with junior rangers from other countries. We are now in the process of organising a summer camp for our junior rangers at the University Bothy at Allt-na-giubhsaich.
We also engage with local primary schools either by visiting schools or hosting the schools on Balmoral Estate. This year we planted trees at Crathie and Strathdon schools. We also set up nest box cameras at Crathie and Strathdon schools which are very popular with the staff and pupils alike. Each classroom has a screen which allows the pupils to watch the birds going from nest building, to egg laying then hatching and finally fledging. One of the highlights of this year was the 'Be a Ranger for a day' event we organised for Crathie and Strathdon Schools, this allowed the school pupils to have a taste of the skills and knowledge required in a countryside rangers day to day job.
Monitoring wildlife
Monitoring wildlife is an important part of our job and we have several long term monitoring programs that we fulfill every year. For example, we have been monitoring birds of prey on the Estate since 1985, and I am pleased to report that two pairs of golden eagles successfully reared chicks on the estate this year. We also monitor capercaillie, black grouse and more recently have been doing a lot of work on waders. This has involved collecting capercaillie feathers as part of a genetic analysis to determine if inbreeding is an issue.
We also monitor bats for the Bat Conservation Trust; we do roost counts, field surveys and waterway surveys. In the last few years we have also started monitoring the impact that deer have on certain habitats on the Estate, there are three hundred random points scattered across the entire Estate that are visited on a regular basis and various measurements are taken and inputted onto a spreadsheet. All this monitoring is very time consuming, for example, the deer impact monitoring that we do involves walking several hundred kilometres every year. The value of the data relies on the monitoring being undertaken accurately following strict protocols and is only valuable over the long term, all the monitoring we do fits in to national monitoring programs.
Habitat management
One of the favourite parts of my job is undertaking habitat management. Recently we have been doing a bit of ditch blocking to re-wet areas of forest to improve the habitat for capercaillie. It is always great fun to revisit sites where management has taken place to see how things have changed. I was very satisfied this summer when I revisited an area of grassland that we had rewetted during the winter months and observed dragonflies and damselflies making use of it. As well as blocking ditches we have been installing wader scrapes on the estate. This involves digging shallow ponds using excavators to benefit wading birds. So far, the scrapes are being well used by wading birds however they are also a huge boost for other species that thrive in our wetlands such as frogs, toads, newts, dragonflies and damselflies.
You may have seen a few wooden boxes appearing on some of the buildings from Easter Balmoral to Invergelder. These are our swift nest boxes and twenty have been installed to date and although the sparrows often get into them first, some are now being used by swifts. There are eight barn owl boxes installed in buildings across the estate, some of which are well used, and we've built log pile otter holts for otters to use, and I hope to build two new ones this year.
We plant a lot of native trees throughout the spring and early summer and with the massive growth of grass we have had this year a lot of time is being spent weeding. Most of these native trees are aspen and have been planted in very specific places to create an aspen corridor in the hope that our very rare dark bordered beauty moths will make use of them in the future. At this time of year, we have moth traps out every night trying to monitor this rare species – probably the rarest species in Scotland as they are only found at four sites in the UK.
Wildlife cameras & snow patch surveys  
We also have a network of wildlife camera traps deployed across the estate monitoring everything from cats to capercaillie. It's always great fun to check these traps and you never know what you will find on them – sometime members of Balmoral Estate staff (you know who you are!!). If we get any good photos or videos, I download them onto the Estate social media so everyone can see them, I recently put a video clip of a capercaillie female with four chicks on to our Facebook page.
It is not just wildlife that we monitor, every year at the end of June we take part in the national snow patch survey. We monitor photographs and measure any remaining patches of snow on Balmoral Estate and also photograph some of the patches in the Southern Cairngorms from specific vantage points. This work has been ongoing since the 1960s and the results may be important in predicting the effects of climate change on montane habitats and species.
Health Minds
Another highlight of the job over the past few years has been working with the local NHS Healthy Minds group, undertaking several walks with them. The obvious benefits that hillwalking and being in the countryside can have on mental health are great to see and our group is always enthusiastic and eager to get out and about and very keen to learn all that they can about the environment.  We were also lucky this year to host a visit by members of the Nepalese and Himalayan Association of Scotland, and after a long walk on Craigowan Hill it was nice to relax on the main lawn and listen to some traditional Nepalese music and poetry.
The Ranger MOT
I am a member of Scottish Countryside Rangers Association Council and an important part of my role is developing the continuous professional development program. Part of this is assisting rangers who are undertaking the Scottish Ranger Award, upgrading the skills of Scotland's Rangers by putting rangers in touch with mentors who can evaluate their performance and guide them through the award. Having done the Award myself several years ago, I realise how important it can be to take a step back and talk to someone about how your role is progressing. I think of it as a ranger MOT! We have had several rangers complete the award recently and have some new rangers signing up for the program. It's a great feeling being involved with raising the standards that rangers work to across the whole of Scotland.
Looking forward
While the days are long and usually, for me, its seven days a week, the work is very rewarding and enjoyable. I am now looking forward to my favourite two seasons on the Estate where I get to escape from the office a bit more. I would like to thank all other departments for their help this year in particular the forestry and works department whom I'm always asking favours of. Thank you.
You can follow Balmoral Ranger service on Facebook, Twitter and Instagram
Visit the Balmoral Castle and Estate website here for more information on the work of the Ranger service, events and activities.