Who will be our Cairngorms Nature Young Presenter?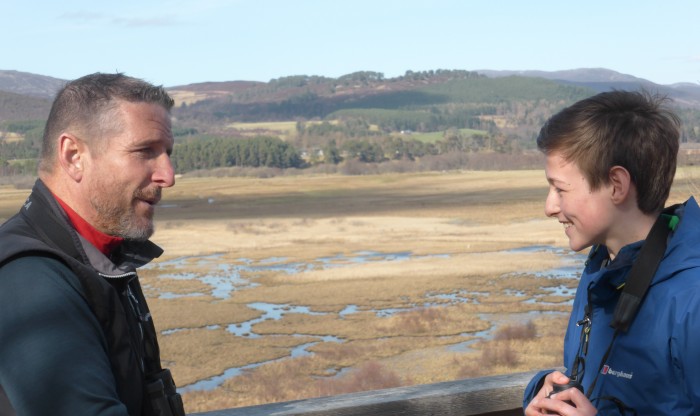 With the summer holidays upon us Cairngorms Nature and the RSPB have launched their UK-wide search to find a child who is passionate about nature and can inspire others.
10-16 year olds up and down the UK are hoping to be chosen for the 2018 title and there is  a very special prize on offer.  The winner will get the chance to spend a day being filmed with TV nature presenter Iolo Williams, here in the Cairngorms National Park as part of an amazing 5-day Speyside Wildlife holiday for them and their family!
Iolo Williams said, "It's so important to inspire the young people now who will go on to be the movers and shakers of the next generation.  The past winners have both been passionate nature lovers and it was a pleasure to spend time with them.  If you're a young person who loves nature and wants to inspire others to love it too then enter the competition and show us that passion."
Last year's winner was Alex Bayley and he and his family spent a magical 5 days in the Cairngorms National Park on a Speyside Wildlife holiday including a fantastic day with Iolo Williams.
Alex wrote a blog about his experiences and said, "My trip to the Cairngorms has been invaluable, I have learnt so much about the vast amount of wildlife that the Cairngorms holds and the endangered species that it treasures.  I loved presenting Cairngorms Nature 2017 and I strongly recommend that you enter for Cairngorms Young Nature Presenter 2018 and who knows, you may be the winner!"
The competition is open to all 10-16 year olds who are UK residents, all they need to do to enter is to film themselves talking about why they are passionate about nature.  The film should be no longer than 30-60 seconds and they must tell the camera why they would like to present Cairngorms Nature to a young audience.
We don't want to see wildlife footage, so please don't include that – what is important is that your enthusiasm comes across to the viewer.
The entries must be uploaded by a parent or guardian and will be shortlisted by a judging panel and showcased online so the public can vote.  The competition closes 31 October 2017.
For more information on the competition and how to enter please visit www.rspb.org.uk/cairngormsnature
Ends.