On yer trike for a trip down memory lane!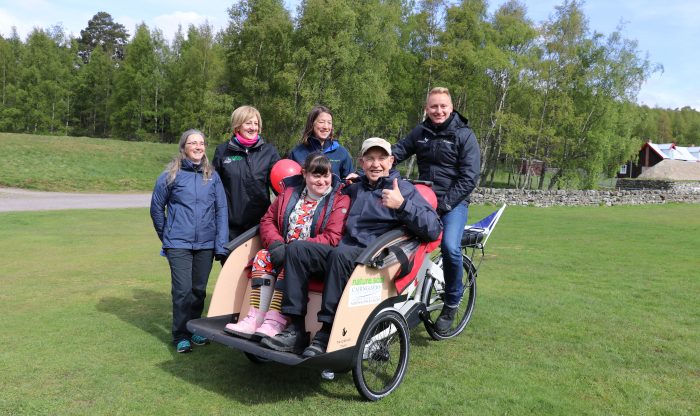 Launch of e-trishaw project in Cairngorms National Park
An innovative new way to help people with physical and mental health problems enjoy the restorative benefits of 'cycling' in the outdoors has been launched in the Cairngorms National Park today (Thursday 9th May).
The Cairngorms National Park Authority and Scottish Natural Heritage (SNH) have jointly purchased an electric trishaw, which can take up to two passengers and is piloted by a trained volunteer. It means that – for various reasons – people who have not been able to access the outdoors can now do so safely.
Helping launch the initiative at the Highland Folk Park in Newtonmore this morning were clients from Caberfeidh Horizons – a local charity for adults and young people with learning disabilities, mental health issues and addiction problems – and members of the Badenoch Shinty Memories Group (BSMG), whose aim is to help create a supportive environment for people in the area who are living with challenging issues such as dementia. They were joined by representatives from Alzheimers Scotland, the Badenoch & Strathspey Community Transport Company, the Park Authority and SNH.
It is well documented that time spent in the outdoors – whether walking or cycling – is of great benefit for people with both physical and mental health issues. But getting out into the fresh air is not possible for everyone such as those people suffering from dementia, physical disabilities or other health problems.
The electric trishaw is being managed by the Badenoch & Strathspey Community Transport Company under their 'Where2Today?' project. They are also responsible for recruiting and training trishaw pilots with Mikes Bikes of Aviemore taking care of maintenance and repairs. To begin with, the 'Where2Today' project will identify client groups to work with – such as day care centres, local nursing homes or individuals who are socially isolated  – but in time it is hoped that if there is demand, the trishaw and a pilot can be booked for a 'cycle ride'.
Maggie Lawson of the Badenoch & Strathspey Community Transport Company explained: "Relatives or friends of older people who they think would benefit from being out in the fresh air, can give us a call any time at the office or email us their enquiry on [email protected]. Eventually we will have a system in place where volunteers can put their availability forward to take clients out on the e-trishaw. We will also require a buddy system where a cyclist rides along in front of the trishaw to ensure the safety of passengers.
"It will be used in Aviemore to begin with but if we have the use of a trailer, it will allow for the trishaw to be used in other communities too, as we know there are already requests coming in. Despite having trained 14 volunteers we are still looking for more and further training sessions will be arranged very soon for anyone who is interested."
David Clyne, Recreation & Access Manager at the CNPA said: "The idea is to help more people safely enjoy being outdoors in this wonderful National Park. It is great for people with mobility issues, medical conditions or mental health problems. I myself have trained as a volunteer pilot and I am really looking forward to meeting lots of people and helping them to enjoy the feeling of 'cycling' in the outdoors.
"It is a key policy of the CNPA's that as many people as possible should enjoy the health benefits of being outdoors in the Cairngorms National Park regardless of ability and the trishaw project will certainly contribute to the achievement of that aim."
Francesca Osowska, SNH's Chief Executive, said:"We're delighted to be able to support this project. It's so important to connect with nature – and this new trishaw is a simply wonderful way to make it easy and safe for people to get out and enjoy the countryside.
"Spending time in nature is invaluable for both mental and physical health, helping us cope with stress and to keeping us healthy and happy. I find myself that getting on a bike or taking a walk in one of Scotland's many beautiful places can make all the difference in how I feel. I'm sure those who use the trishaw will find the same benefits."
One of the client groups likely to benefit greatly from this safe way to access the outdoors are those people with dementia. For this reason, the Folk Museum was chosen for the launch of the project, with people able to enjoy the sights and sounds of the Folk Museum which may be familiar to them from days gone by.