Young people offered chance to win place on Nature ID course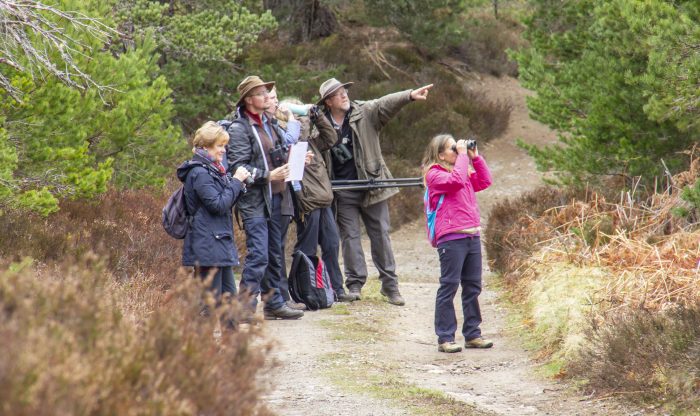 Do you know the call of a crested tit or can you tell the difference between a golden eagle and a buzzard? The Cairngorms National Park Authority and Speyside Wildlife are offering two young people a place on a specialised LANTRA Accredited Nature Identification course to start them off on a career path in nature tourism or conservation.
Home to over 25% of all endangered species in the UK, the Cairngorms National Park is the perfect location for this course, there is also a real need for it. Sally Dowden, Owner of Speyside Wildlife explained: "I have worked in wildlife tourism and been employing wildlife guides for nearly 30 years and found recently that whilst people may have a qualification in ecology, that doesn't mean that they have sufficient wildlife ID skills to take guests for a day in the Cairngorms National Park. We set this course up three years ago to address that skills gap.
"The course is run for 12 months and includes five weekends spent in the field and classroom, plus a large amount of self-study to produce a detailed field notebook. It culminates in a final assessment on all aspects learned. By the end of the course participants should be able to identify the mammals and major birds in the Cairngorms National Park, know what species live in specific habitats and have an appreciation of what wildlife guiding entails."
Andy Ford, Head of Conservation at the CNPA said: "Nature tourism and conservation are vitally important to the economy of the Park and we need to ensure that young people have the skills to pursue careers in those areas of work. We are delighted to be partnering with Speyside Wildlife to offer two young people the opportunity to learn new skills, not only to benefit them, but also to ensure that there are passionate and educated people working for nature in the Cairngorms National Park."
The competition is open to anyone living in Scotland who is 16-30 years old. To enter people need to compile a field diary over the spring and summer. Judges will be looking to find out the hidden world on entrants' doorsteps; where; when; weather; seasonal changes; what has been seen; magic moments and 'firsts'. The diary of their 'local patch' can be in a format that suits the entrant, for example a notebook, film or photography.
A shortlist of finalists will be chosen to come to an assessment weekend in October and spend the day with TV naturalist Nigel Marvin, where the two winning people will be selected. Nigel commented: "Wildlife identification takes consummate skill, the perfect guide will not only know their wildlife but be able to illuminate the whole picture and have knowledge about plants and habitats too. They also have to be 'people people', educating and entertaining guests.
"When picking a winner we shall be looking for that hard to define 'vital spark' – the spark that comes when someone has something other than just knowledge, someone for whom wildlife ID is almost instinctive. Speyside Wildlife has given opportunities and trained many expert guides. I'm pleased to be helping them choose the next wave of guides, conservationists and others in this Nature ID competition."
The competition deadline is 12 noon on Friday 30 August. For full information on how to enter and all the terms and conditions please click here.