CEO Blog on Climate Week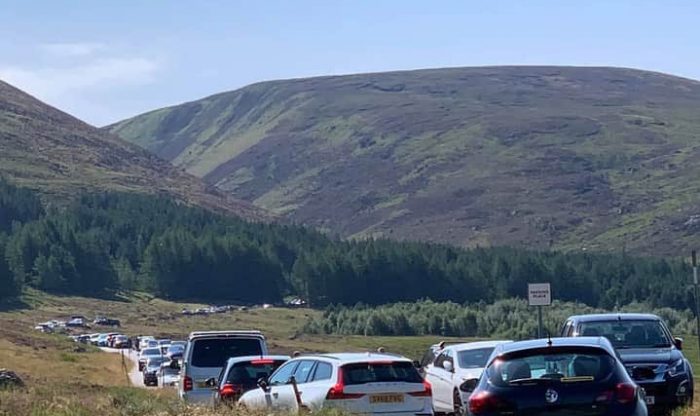 This past summer has been unlike any before as we dealt with the fallout from the Covid pandemic. There has been an incredible focus on visitor management within the Cairngorms National Park over the past few months and all the work that we have been doing collectively to deal with a range of issues.
The other main questions that we all face as we look to recover from Covid are how to make this a green recovery and how to deal with the climate emergency. The conference that we held in early March (seems a lifetime ago) set us on a good path of looking to 2045 and the lead role the Cairngorms National Park can play in meeting the challenging climate targets.
This Scottish Climate Week, I want to focus on one aspect that gives us an opportunity to tie these threads together and that is transport. How people get to the National Park and move around the National Park is a key issue. There are 18,000 residents within the Park and over two million visitors each year and the latest Visitor Survey shows that 83% of visitors travel to the Park by car. The figure within the Park is more encouraging with 25% walking once they are here. Overall the visitor survey was incredibly positive for the Park but at the bottom of the league of satisfaction was public transport. At present public transport does not meet the needs of residents or visitors and we need this to change.
At the same time we have issues of traffic management with lots of people wanting to visit popular tourism hotspots like Glen Muick, Linn of Dee or Glenmore. This has led to traffic jams, verge parking, and 'party' camping in certain locations this past summer. A number of solutions have been trialled this summer including one in/one out systems at the entrances to certain Glens, speed limits, and overflow car parks. This has been an informative experience.
Over the next few years, we also need to expand the provision of infrastructure for electric cars in key places as the use of this technology grows. Where we want this infrastructure and where we have network capacity are key questions for us to look at.
Finally, active travel is a key and growing component of all our discussions around transport and is highlighted in the National Transport Strategy. We need to get people out of their cars and cycling and walking on high quality multi-user routes throughout the Cairngorms. We are working closely with Sustrans, communities, and partners to look at options for doing this across the Park and it is a central part of our Heritage Horizons bid to NLHF.
So, how do we draw all these elements together? I think that the key for us is to be ambitious and to look at a hub and spokes model for active travel and public transport. Instead of asking people to drive 12 miles up a dead end Glen to park surely we can offer a hub in a village where visitors can park their cars, get them recharged and then have high quality public transport and active travel offerings to get them to the end of the Glen. Not only would this mean visitors would hopefully spend more time and money in villages but we could also ensure that the right infrastructure is in the right places leading to a potentially lower overall infrastructure cost. I also think that Glens that visitors can only access by public transport, walking, or cycling would be much less likely to see 'party' camping.
The CNPA has already made this point as part of our response to the Cairngorms Masterplan but there are lots of places where we could deliver economic (more spend in villages), social (increased health benefits through active travel) and environmental (reduce CO2) benefits if we are a bit more radical in our approach to transport.
These ideas have been talked about for many years and are standard in many countries and protected areas around the world. It will not be easy to deliver and we will all need to change how we approach accessing the countryside. However, if we do it right, it would be a real step towards delivering our part of the climate challenge.