Chinese delegation look to Cairngorms National Park for guidance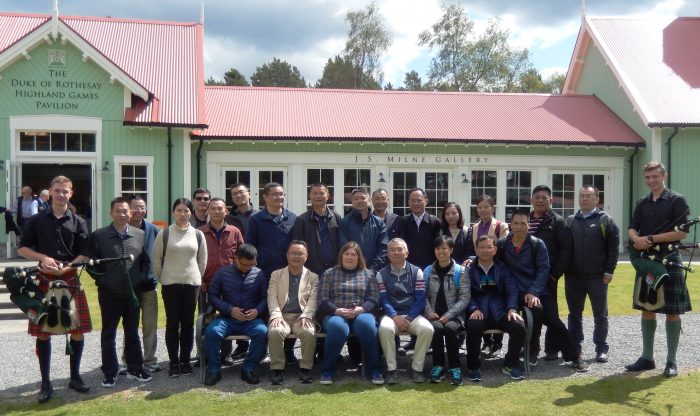 A group of Chinese government officials, scientists and environmentalists are visiting Royal Deeside in the Cairngorms National Park today (Monday 8th July), as part of a two month study trip to the UK.
The 22 visitors are spending the summer studying environmental protection at the Henley Business School within the University of Reading.  President Xi Jinping said, "China highly values ecological and environmental protection. Guided by the conviction that lucid waters and lush mountains are invaluable assets, the country advocates harmonious coexistence between humans and nature, and sticks to the path of green and sustainable development."
It is these words from President Xi Jinping which prompted the group to visit Scotland to experience and learn from the Cairngorms National Park.  They will focus on the set up and planning of national parks, law enforcement and protection, as well as national park administration and regulation.  William Wang, who works for the Henley Business School and who is leading the study trip said: "I believe the Cairngorms National Park is the best place for them to visit and learn some practical and successful experiences out of the classroom environment"
Among other attractions the group visited the new Braemar Highland Games Centre and the Fife Arms Hotel as well as visiting Braemar Castle and Invercauld Estate, which are the excellent eco-economic examples in the Cairngorms National Park.
Cairngorms National Park Authority (CNPA) Deputy Convener, Geva Blackett is hosting the visit on behalf of the CNPA, she said: "I am delighted that our friends from Hainan Province have chosen to visit the Cairngorms National Park as part of their business training.  We have had a fantastic day in Braemar seeing some of the many projects and businesses here – from outdoor recreation through culture to conservation.   Rural communities are the thriving and vibrant heartbeat of the Cairngorms National Park and Braemar is a perfect example of a successful community that is helping to achieve the aims of the National Park."
The group will also be making a visit to the Highland Folk Museum in Newtonmore on Wednesday (10th July).
Ends.