Looking forward to welcoming autumn visitors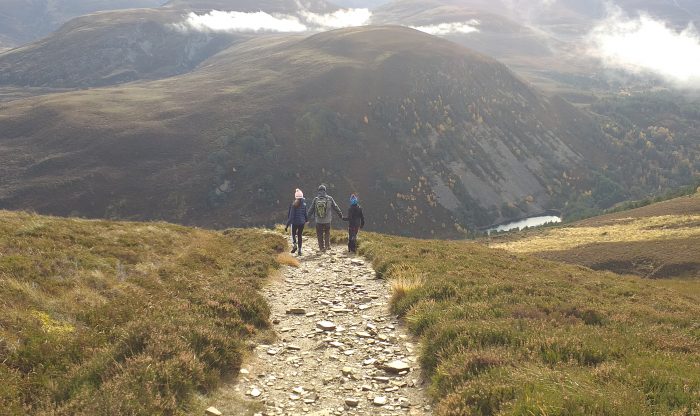 Autumn is the best time of year to experience the Cairngorms National Park in all its colourful glory and despite the tightening of lockdown restrictions, the Park's many visitor businesses and attractions remain open and ready to welcome guests safely.
While the news that households cannot mix indoors may have impacted some holiday plans, there are still plenty of flexible accommodation options for the October break and beyond, for people wanting to experience the Park this autumn.
Walking, cycling, golf, horse riding and lots of other organised outdoor activities are on offer along with visits to a variety of family and cultural or historical attractions – and there are many hotels, pubs, cafes and restaurants open for business. For ideas on where to stay and things to do, please visit the VisitCairngorms website.
The Cairngorms Business Partnership (CBP) and the Cairngorms National Park Authority (CNPA) are keen to see the traditional visitor season extend well into the autumn months to aid the Park's economic recovery after many businesses were forced to close their doors in the spring and early summer due to the lockdown.
Mark Tate, Chief Executive of the Cairngorms Business Partnership said: "Businesses have worked hard to ensure that they can offer customers and visitors a safe #CairngromsTogether welcome. One that gives confidence to our communities, employees and visitors. There is no better place, than the Cairngorms National Park, to meet your loved ones outdoors and at one of the many welcoming cafes, pubs, restaurants and hotels who are 'good to go' and ready to welcome you."
Janet Hunter, CNPA Board Member and Chair of both the Cairngorms Tourism Partnership and the Cairngorms Tourism Emergency Response Group commented: "Especially in these difficult times, we are here with a warm welcome and all the necessary measures are in place to ensure that everyone stays safe. What we ask, is that our visitors do the same by making sure they know the guidelines #CairngormsTogether and what is expected of them. Visitors should plan and book ahead where they can and be prepared to be flexible.
"While we can't spend time indoors with another household we can enjoy the great outdoors with them instead and here in the UK's largest national park there is plenty of room to do just that with lots of places to visit and enjoy in all corners of the Park"
For more information please visit the CNPA and VisitCairngorms websites for more information.