You can help look after the Cairngorms National Park by 'treading lightly' when you're out and about enjoying the outdoors by following the advice below:
Dogs
From April to August, keep your dog on a short lead or close to heel in areas of ground nesting birds.
Avoid fields with livestock – particularly young animals.
Please clean up after your dog and put any waste in a bin, or take it away and in more remote areas, remove it off the path. The Cairngorms National Park has partnered with Dicky Bag, which makes taking responsibility and picking up after your dog even easier. Get a free shoulder strap too!!
View more info here
Camping and litter
Pitch your tent well away from cars, roads or buildings. Keep the numbers of your group small. Move on after a couple of nights. Remove traces of your tent pitch and any other litter. Carry out what you carry in.
Outdoor Cooking
Please use a stove its the best way to prevent wildfires.
Camp fires
Camp fires in the wrong place such as on peaty ground or near trees can cause major damage. Being able to have a camp fire in the Park is rare as there are not many places where it is safe to do so. So if you would like one make sure it is on gravel or sand , under control, fully extinguished  and all signs of it are removed and not buried.
Never light a fire anywhere when there is a high fire risk.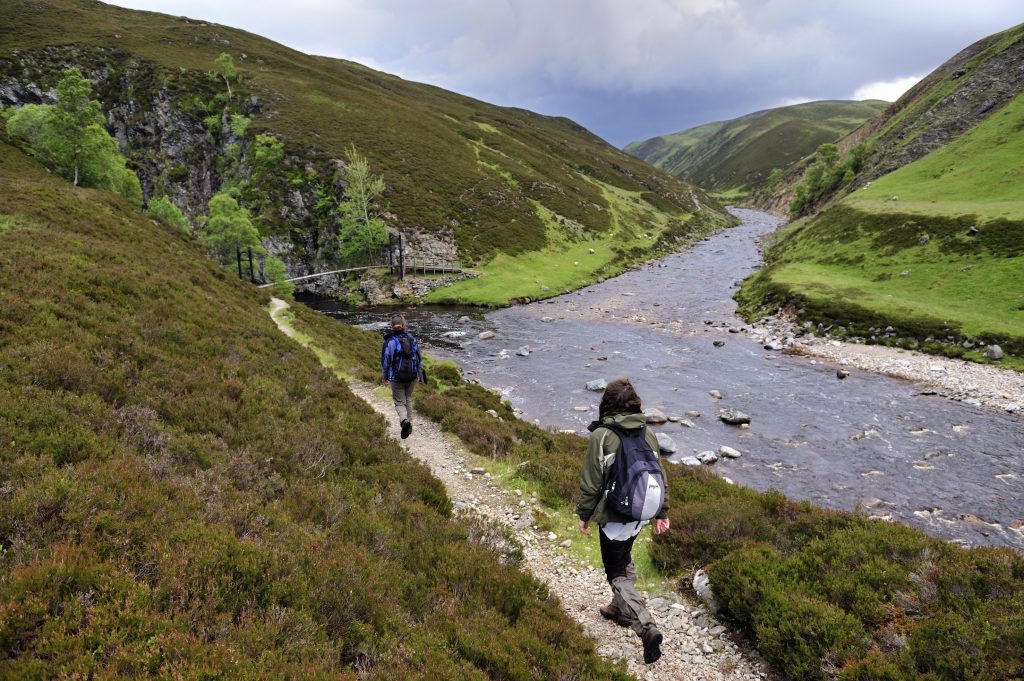 Toilets
Use a public toilet if there is one. If not, dig a hole and bury waste well away from buildings or well-used areas. Urinate at least 30 paces from lochs, rivers and streams.
Ticks
The Cairngorms National Park is a great place for getting outdoors but like the rest of Scotland you should protect yourself from the tiny biting parasites known as ticks. The four top tips for preventing a tick bite are:
Stick to paths and avoid long grass, bracken and heather:
Cover exposed skin if you are walking through long grass, bracken and heather:
Use a recommended insect repellent:
And most importantly check yourself for ticks at regular intervals.
For advice on removing ticks and the signs and symptoms of Lyme disease the Highland Council have a useful guide here.
Duke of Edinburgh Award Expeditions
The Cairngorms National Park is a great place for Duke of Edinburgh Award Expeditions with many of the iconic mountain passes ideal for bronze, silver and gold expeditions. Being such an ideal location means that there are pressure points at popular camping spots leading to issues such as overcrowding, litter and anti-social behavior. If you are planning an expedition consider your expedition aim can you put something back? Have you thought about exploring the less visited areas of the Park like Glenlivet, Strathdon and Laggan?  For advice on camping spots  visit Duke of Edinburgh Award Scotland here.
For specific advice on your rights and responsibilities for a particular activity please see the links below.
Rights of Way
Scottish Rights of Way Society
Horse-riding
British Horse Society (Scotland) –Responsible riding.
Paddling
Scottish Canoe Association – Key points of the access code for Paddlers
Mountain biking
Do the ride thing
Hillwalking
Heading for the Scottish Hills– daily information for hillwalkers about stag stalking activities
Climbing
Mountaineering Council of Scotland – Crag Code
Wild Camping
Mountaineering Council of Scotland – Wild Camping