Wee Walks Week celebrates short local walks and encourages everyone to get outdoors and enjoy a walk with friends, colleagues or neighbours, join a Ranger-guided walk or try out one of the Park's health walks
Make A Pledge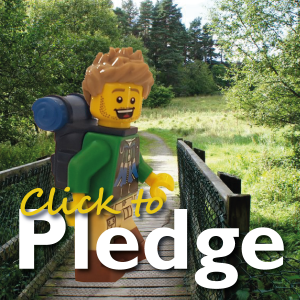 You can get involved with Wee Walks Week by making a pledge to get outside for a wee walk and share your goal with us.
Pledge any distance from 1 mile upwards and as many walks as you plan to take between the 3rd and 9th of September by filling out our simple form.
Going on a group walk with friends, family, your school or another group? Let us know how far and how many of you are going on a wee walk by using the wee walks pledge form here.
Join a Health Walk
Fancy some company or support getting out for a wee walk? Then join one of over 20 health walk groups in and around the Cairngorms National Park.
Find a Path
Need some inspiration for your wee walk? Then check out our Community Path Leaflets. There is a wee walk suitable for everyone.
Download a e-route card showcasing a great selection of wee walks from around the Park.
Go Orienteering in Ballater
Try your hand at a bit of map reading and discover the slopes of Craigendarroch Hill as you seek out the letters to reveal a hidden word on our Wee Walks Week Orienteering Trail, designed by Scottish Orienteering.
Orienteering is a great activity for everyone with the map reading offering a mental distraction to the physical effort of exercise. Get the kids away from their screens and pick up the easy to follow Orienteering map to find the control points and unscramble the word.
Maps are available  at the Ballater iCentre in The Old Station,  Station Square, Ballater or download the Map and Guide here.
Guided Walks
Enjoy a wee walk and learn about the wild side of the Park with our Countryside Rangers. 
Or join the Badenoch Great Place Project and explore the prehistory of the area while getting outdoors for a Wee Walk. There will be three guided walks running from Kingussie on Sunday 9th, Laggan on Sunday 16th and Alvie on Sunday 23rd September.
#WeeWalks
Please continue to share your Wee Walks stories and photos – we would love to see them on social media via Active Cairngorms Facebook, Cairngorms National Park Instagram or Twitter @CNPactive – using the hashtag #weewalks