EUROPARC Youth Manifesto Project
Help shape the future of wild places across Europe
Young people are the future of Protected Areas in Europe; you are the decision-makers of tomorrow. It is important you are given the opportunity to consider how the present management of our environment will affect you, so you can express your thoughts and get involved in the issues that will impact you in the future.
In collaboration with the following partners –
EUROPARC Federation
Cairngorms LAG
Rieska LEADER, Finland
Keskipeste LEADER, Finland
Ravakka LEADER, Finland
Scottish Natural Heritage
Young Scot
the Cairngorms National Park Authority will lead on a project to develop a Youth Manifesto that will outline ways in which protected areas, environmental organisations and rural communities can meaningfully engage young people in their activities to safeguard the future stewardship of our natural heritage and to retain young people living, learning and working in the rural environment and communities.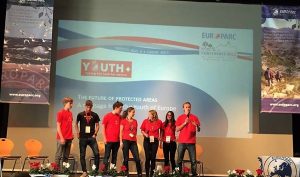 The manifesto will detail and outline opportunities across a number of areas such as:
Training, employment and support.
Transport, facilities and social opportunities.
Housing.
Natural and Cultural Heritage.
Learning.
Building community capacity and Governance of community organisations.
Coordination and Communications.
In line with the Year of Young People 2018 co-design principles the project is open to 30 young people aged 16-25 from across Europe who have been involved in community, protected area, youth or nature programmes. You will come together to share knowledge and co-design the manifesto. We are looking to recruit young people from a wide range of backgrounds, based within the Cairngorms area.
The project will run for two years and involve the following elements:
May 21-25 – Knowledge sharing event and Youth Manifesto planning workshop in the Cairngorms.
June 17-21 – Youth Manifesto planning workshop in Finland.
September 18-21 – Attendance at the EUROPARC Conference 2018 in the Cairngorms National Park to present the Youth Manifesto.
Innovation and planning workshop in the Cairngorms.
3 innovative community partnership projects for young people to be planned in second year of project.
To apply for this unique opportunity, please download, complete and submit the application form:
For more information, contact Alan Smith, Outdoor Learning Officer at the Cairngorms National Park Authority.
01479 870518   —  [email protected] — follow on Twitter  @CairngormsOL  —  Instagram @cairngormsnationalpark