Consultation Period: 17 November 2017 - 2 March 2018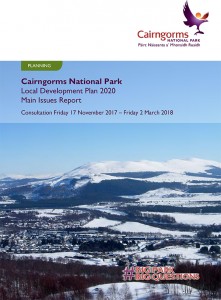 We are consulting on the main issues to be addressed in the Cairngorms National Park Local Development Plan 2020 – the document which will guide future development in the National Park.
The Main Issues Report seeks views on the big issues that the Local Development Plan 2020 will need to address and the options for tackling them.
The consultation on the Main Issues Report is an important opportunity to get involved in shaping the future of the National Park. It is your chance to influence the content of the new Local Development Plan to help make sure it provides the homes, jobs and services that our communities need whilst also protecting and enhancing the Park's unique environment and cultural heritage for future generations.
Download the full Main Issues report here  (PDF | 8.2MB), or view each of the Main Issues below.
Main Policy Issues
There are 10 topics that we think are the main policy issues that the new Local Development Plan will need to address. These don't try to cover all the policy topics that will eventually be included in the final Local Development Plan. At this stage we are focussing on the topics that we think are the most significant. Click on the images below for more information on each of the main policy issues.
Settlement Based Issues
We have also identified issues and proposed objectives, as well as potential development options, for each of the main settlements within the National Park. You can view these by clicking the settlement (highlighted in purple) you are interested in on the map below and then clicking the link.
How To Give Us Your Views
Cairngorms National Park Authority
FREEPOST NAT 21454
Grantown-on-Spey
PH26 3BR
Schedule Of Events
We are holding a number of events across the National Park where you can come along and find out more about the Main Issues Report. At each event, there will be a Drop in session which you can visit during the stated time, followed by an informal round table discussion for around an hour. You are welcome to attend either or both parts of the event and we will be happy to chat to you about any of the towns and villages in the National Park, not just the location you are visiting.
We look forward to seeing you!
Please let us know if you have any accessibility issues  such as the need for disabled access for a venue or if you would like to request a large print copy of the Main Issues Report.
Date (2018)
Location
Time
Venue
18th January
Tomintoul
6pm Drop In
7pm 'Round Table'
Richmond Hall
22nd January
Blair Atholl
6pm Drop In
7pm 'Round Table'
Village Hall
24th January
Grantown
6pm Drop In
7.30pm 'Round Table'
Grant Arms
30th January
Aviemore
6pm Drop In
7.30pm 'Round Table'
The Hub
1st February
Ballater
6pm Drop In
7.30pm 'Round Table'
Mike Sheridan Room, Albert Hall
6th February
Braemar
1pm Drop In
2.30 'Round Table'
Victoria Hall
8th February
Kingussie
1pm Drop In
2.30 'Round Table'
Talla nan Ros
12th February
Newtonmore
6pm Drop in
7pm Discussion
Village Hall
JUST ADDED
8th February
Carrbridge
6pm Drop in
7pm 'Round Table'
Village Hall
Supporting documents